Today I'm sharing three rapid reviews of thrillers that will chill you to the core! I'll be doing more in depth video reviews on my tiktok account 👉🏻 @author_noelleholten of all my rapid reviews, so follow me there.

The Washington Poe series is one of my favourite – I make sure to read each one as they come out. I adore the dry wit and banter between the characters and I think Dead Ground probably has the most of that gallow humour in the series so far. The author always manages a killer opening that leaves me desperate for more. I'm definitely invested in all the major characters the author introduces and in particular, I am hoping that Estelle Doyle gets more page-play in future books. (#spoileralert: SHE DOES!) She is a cracker! If you love dark and twisted thrillers with complex and addictive storylines, I recommend this and every book in the Poe series. Phenomenal!!

The opening of this psychological thriller gave me shivers! I knew then I was in for one hell of a read. Perfectly paced, a dual timeline, with a mix of likeable and very unlikeable characters, I struggled to put this book down once I started. The Life She Wants is an intriguing novel that will send chills down your spine and made me think twice about who I'd add to my circle of friends. If you like pure suspense, WTAF twists and a mega book-hangover once done, this book needs to be on your TBR. Highly recommended!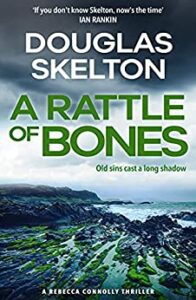 I'm recently finished the latest in this series: Where Demons Hide so I obviously love these books! A Rattle of Bones takes you to the Scottish Highlands | Inverness with a dual timeline. The opening was fantastic! Mysterious, haunting and controversial – the author had me 100% invested from the get go. Important themes are addressed and the characters, especially Rebecca Connolly are so well written and developed, I felt like I knew them. This book was dark, soul-stirring and incredibly addictive. Highly recommended!
Have you read any of these books? Let me know what you thought in the comments 👇🏻