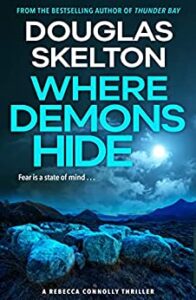 Something scared Nuala Flaherty to death. When her body is found in the centre of a pentagram on a lonely moor, Rebecca is determined to find out what. Was she killed by supernatural means, or is there a more down-to-earth explanation?
Rebecca's investigation leads her to a mysterious cult and local drug dealings. But what she doesn't know is that crime matriarch Mo Burke still has her in her crosshairs. Mo wants payback for the death of her son, and after one failed attempt to hurt Rebecca, she is upping the ante. And this time, it could be lethal.
CrimeBookJunkie Review: 
Set in the Scottish Highlands and the fictional Island of Stoirm I found myself totally engrossed in this novel, filled with fear, secrets, the past, lies, loss, a supernatural undercurrent, the occult, betrayal and corruption and poor Rebecca Connolly has to weave through it all and find the truth.
Wow is all I can say! Such an atmospheric and tense opening – the author left me with no choice but to continue reading. There was a real sense of urgency and alarm in the words which leapt from the pages at me. I felt every single moment. An unexplained death piques our main character's (Rebecca Connolly) interest and she is pulled to the Island of Stoirm – well she had another good excuse to go as her best friends were getting married. But Rebecca is connected to Stoirm whether she likes it or not.
Multiple POV's gave me a great advantage as a reader and allowed me to see things from various perspectives. A few strands also kept me on my toes, wondering how everything would tie together. I never worry if this author will pull it off though, he sewed all loose ends up perfectly.
The chapters had great hooky endings and I struggled to stop once I had started. The characters in this novel were something else. Douglas Skelton brought them to life masterfully. I've followed this series from the start and feel like I actually know these people. I was invested heavily in the outcome and with a few jaw dropping revelations, the author did not disappoint me.
Would I recommend this book? A haunting, compelling and wonderfully atmospheric read — you bet your ass you need to add this to your TBR immediately! Where Demons Hide can easily be read as a stand alone, but I think you get such a better understanding of the characters if you read the series in order. Highly recommended!