I'm a sucker for a good police procedural so I'm sharing three rapid reviews of some great ones I've read!

I instantly felt the tension from the opening lines of Bury Me When I'm Dead and knew that this was a story that would keep me turning the pages. I wasn't wrong. The author created a world of conflict and mistrust with a diverse cast of characters that held me and made me invest my time in this clever mystery. Charlie Mack is one hell of a strong female lead and I had no choice but to go and buy a few more in this series! Although Charlie is a PI, she still uses procedural elements so I thought she fit well with the other books I'm reviewing today. If you love complex, US based, character driven mysteries – this is a book you'll want to read! Highly recommended.

A cracking novella this quick read has us following the fabulous Roy Grace to France with his family. What you get is an extremely creepy and intensely intriguing story littered with dark humour so you don't psychologically drop off the edge. Revenge is at the heart of this story but so is the idea that you would do whatever it takes to protect those you love! I'm a fan of Peter James and his books are so on point when it comes to police procedurals. The sense of jeopardy was palpable as the story unfolded. Someone was out to harm Roy and those he cares about – would they succeed? I really enjoyed the descriptions in this novella too. You felt the mood of the story as Roy described his surroundings.
I'm not sure you'll find many others that will pull you right into an investigation as these do. I always feel like I am one of the team. If you enjoy authenticity in your crime fiction, relatable characters and fast paced action – I'd easily recommend this one and all the books in the series!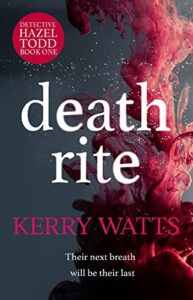 The prologue of Death Rite pulled me in and and I was immediately hooked! Set in Scotland with multiple POV's (I love!), the plethora of characters added layers to this story. I love books that are character-driven and this definitely fits that category. The inclusion of real life serial killers grabbed my attention and the author shows she has done her homework. This book has an intricate plot, chilling characters and an utterly satisfying conclusion. Highly recommended.
Have you read any of these? Let me know what you thought in the comments!