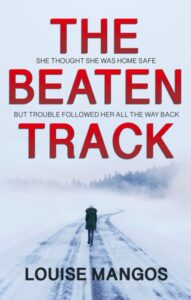 She thinks she is safe now that she's home from her travels… but her nightmare has only just begun.
After her stalker takes his life and she's jilted by a holiday lover, Sandrine comes home from her round-the-world backpacking trip perturbed, penniless and pregnant. She meets handsome Scott who offers her love, security and all she and her new baby could ever wish for.
But their dream is about to turn into a nightmare…
The book is mainly set in Switzerland, however when looking at the past we are taken on a backpacking journey to various parts of the world. Fear, anger, abuse, narcissism, escape, stalking, power and control are some of the main themes I came across with one main thought thread throughout: 
What would you do to protect those you love?
Wowsers! ? That opening! Claustrophobic, atmospheric and chilling. The description so vivid, I was right there in the moment! The novel is told in first person POV by two different characters and through a dual timeline – a year before and the present day. This really adds to the tension. The storyline is expertly mapped out and really gets under your skin as you (the reader) are at times a step ahead in knowledge. I couldn't help yelling at my kindle every now and then, as if I could will Sandy to see the things I could. It definitely had me gripped and immersed fully as we discovered the true extent of Jake's messed up mind as the story progresses and mirrors itself at the end.
Although we are introduced to a few characters in Sandy's and Jake's life, the spotlight is on this pair. Sandy is a new mother, returning home early and pregnant after a traumatic experience on her backpacking journey. Not looking for love – she finds it anyway – but she's not ready to share her trauma with the new man in her life… yet.
Jake – JAYSUS ? This is one messed up fothermucker! He has a disturbing view of love, his obsessive personality is creepy but his delusions block this realisation and he both angered me while evoking some sympathy at times due to his childhood experiences. The author did an excellent job of developing her characters to drive the story forward and keep me glued to my kindle.
Would I recommend this book? Abso-frggin-lutely! Visceral, haunting, tense and chilling – Louise Mangos has delivered a psychological thriller that got right under my skin. The concept was clever, the story was riveting and the characters had me 100% invested! Highly recommend this #badboy is added to your TBR – released in April.