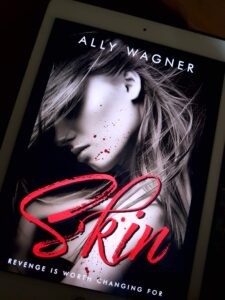 Shapeshifters were wiped out two hundred years ago by their fellow preternatural beings. To prevent herself from reaching the same demise as her ancestors, Keira Quinn pretends to be a werewolf.That is until she barely survives a brutal ambush. With a thirst for blood and a short temper, she molds herself into a ruthless assassin. Nothing will stop her from getting revenge. She'll hunt down the ones who attacked her and kill them one by one. After all, what better way to assassinate someone than to impersonate the one they trust most?
I know! I know! Those who follow my reviews will be wondering why I'm reviewing a dark romance / fantasy series on #CrimeBookJunkie but bear with me and you'll see! Skin is a cleverly created world filled with a shapeshifter, werewolves and vampires but there IS a mystery and this criminal element is why it is a perfect fit for my blog.
I love a bit of fantasy fiction, especially when preternatural creatures are involved and the author quickly had me hooked. For a debut novel, Skin has it all. A compelling and hooky storyline. Well developed characters that you'll love or hate – in fact, by the end of the book I was torn between Cain and Lucas but always #TeamKee. ??
Told from multiple POV's you learn a lot of the backstories through dialogue and other characters. The book is set in L.A. and the world created had me truly believing that the preternatural could live among us.
Would I recommend this book? You bet your ass I would! This debut was everything I hoped it would be. Fresh, dark and compelling – I was impressed. When I finished this book, I knew I'd buy the next (review below!)  It was a tense, chaotic, slightly spicy read and I'm a fan!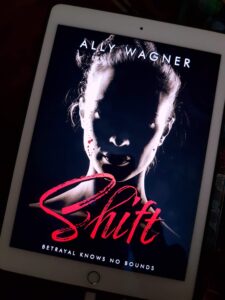 After discovering the truth behind her attack, Kee tries to return to life as usual. However, too much has changed.
Especially her.
In an effort to move forward, Kee takes a small holiday getaway that quickly turns dark when she discovers an underground black market. Kee needs Lucas' help for a rescue mission, and he needs something in return.
Kee thought she felt the sting of betrayal before, but nothing could have prepared her for what was to come.
OMFG – What a read! Everything I said about SKIN (above) applies to this book multiplied by a gazillion! The author really ramped up the tension in SHIFT and just when I thought I couldn't love the characters anymore – she only goes and adds a friggin DRAGON ❤️???
The story seamlessly picks up from where we were left GOBSMACKED in Skin and I felt we got an even better picture of the characters and their quirks in this latest outing. I adored Conrad – loyal and faithful to his Alpha Kie – he has a secret which could tear that trust to shreds.
When you read this book you'll understand this next thought of mine. As I was reading, a naughty little devil was whispering in my ear and  I had a wish to see Samson thrown in to poor Kie's love drama … I mean what a dilemma that would be: Vampire or Werewolf or Dragon OH MY!
Ok, so the verdict: I loved SKIN…I hoped SHIFT would exceed my expectations and it did! It is brutal, sexy ? … lots more ???? (did I say that!?) addictive to the point of obsession – The author is lucky she lives in the US as I could easily add her to my #authorstalking list. (Not a threat ??)
Found family, loyalty, betrayal, courage, power – sooooo many things to keep me turning the pages. This was so visual, very filmic (is that a word?) – I could picture the scenes. As I said, I'm still torn between #teamcain or #teamlucas but then the author had to throw Samson in the mix and for me, dragon trumps vampire & wolf hands down. My only disappointment is that I couldn't race to amazon to get the next book. I need more!
Would I recommend this book? Holy shitballs – do you even have to ask? Ally Wagner is an author to watch – make sure she's on your radar and… uh… Ally… when can I get my hands on SEVER, you can't leave me hanging!