Very excited today to be sharing my review of Finding Family at the Cornish Cove by Kim Nash as part of the blog tour! Huge thanks to Rachel's Random Resources for the invite and Boldwood Books for the e-arc!
Click on the book (not an affiliate link!) to find out more about the novel.
👇🏻

My thoughts: 
You may be surprised to learn that today I'm taking a quick detour from the world of dark mysteries to give you an 🍁 autumnal-filled shout-out about Kim Nash's latest piece of magic, "Finding Family at the Cornish Cove".
Oh, the allure of Cornwall and the picturesque Driftwood Bay! The description of Driftwood Bay had me ready to pack up my bags, leave behind real life, and book myself a one-way ticket. There's just something so magical and inviting about this place that draws you in.
From the get-go, the themes of second chances, taking leaps of faith, found family, miscommunication, and community shine through. If you've followed Kim's earlier works, you know that she often weaves in anecdotes and the importance of mums, which give a heartwarming touch to her stories. This book is no different, with secrets and a profound journey of self-discovery artfully threaded throughout. Yep, classic Kim, creating a tapestry of emotions and situations that pull at your heartstrings. It's like every page holds a treasure just waiting to be unearthed.
The narrative flows from the POV of Gemma, the charming café owner of Driftwood Bay. Although she's ardently single (at least for now, 😉!), her life is teetering on the cusp of change. Picking up one of Kim's books always feels like reuniting with old pals, and this one resonated in the same familiar, cosy way. Change is in the air for Gemma, and oh my days, it wasn't what I expected…
Our protagonist Gemma, post a traumatic divorce, is on the path of reinvention. While she claims to have moved on from her cheating ex, Lucas, she's curiously hung up on him. I may have yelled out in frustration a couple of times, urging her to really move on. But ah! Enter a new man – and oh boy, the dynamics shift. Yet, I found myself wondering if this new guy was any improvement. A delicious twist, I must say!
The community spirit of Driftwood Bay? Simply delectable. Everyone rallying together, taking care of each other – it's the kind of place you'd want to call home. The town's close-knit community radiates warmth and makes you yearn for such unity in real life. The breadcrumbs Kim drops about the sequels make me clap with delight. More to look forward to!
I loved bumping into characters from Kim's previous novel. (If you've missed that one, check out my glowing review here!) Even though Finding Family at the Cornish Cove stands strong on its own, the previous book adds a luscious layer that's hard to resist.
The introduction of Occy and Jude Adams added more layers of intrigue. While I instantly took to Occy, Jude was, for me, a puzzle. I mean, 🚩 the red flags 🚩 (in my opinion 😛) were fluttering all around him! Why Gemma overlooks them, I don't know – maybe it's the old adage, love is blind? Or maybe, just maybe, I'm a tad too cynical? Time will reveal if Jude can win a place in her heart, and mine.
Kim's distinct voice reverberates through every page. Reading her work is like settling down with a hot cuppa on a chilly afternoon – comforting and invigorating. The range of emotions she evokes – from laughter to tears, and yes, even an occasional scream – is a testament to her impeccable storytelling.
Would I recommend this book? Absofrigginlutely! It's a heartfelt, emotion-packed journey that's relatable and endearing, with just the right sprinkle of fun. Perfect for those cosy autumn evenings. So, don't just stroll, sprint and grab yourself a copy of this Cornish delight!
Check out the whole the tour here: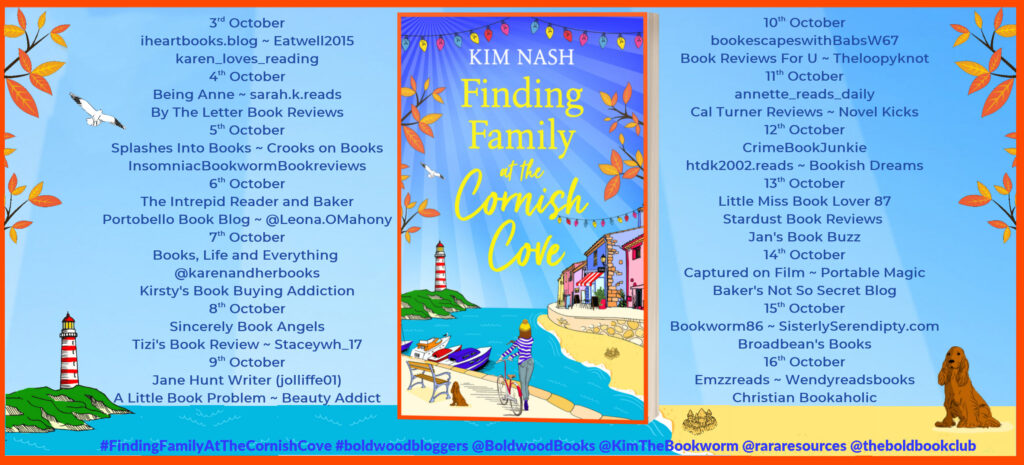 About the Author: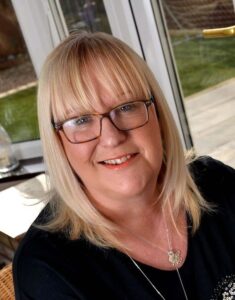 Kim Nash is an author of uplifting, romantic, feel-good fiction, having wanted to write books since she was a little girl. She works as both Digital Publicity Director for publisher Bookouture and a book blogger at www.kimthebookworm.co.uk. She lives in Staffordshire with her son Ollie and English Setter rescue dog Roni. When she's not working or writing, Kim can be found walking her dog and reading, as well as running a book club in Staffordshire and organising local and national reader/author events
Social Media Links –
Facebook: https://www.facebook.com/kim.nash.10
Twitter: https://twitter.com/KimTheBookworm
Instagram: https://www.instagram.com/kim_the_bookworm/?hl=en
Newsletter Sign Up: https://bit.ly/KimNashNews
Bookbub profile: https://www.bookbub.com/authors/kim-nash