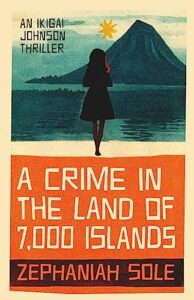 I must kick off this review with a confession: When I was sent this book, I wasn't sure what to expect but as Luca Veste thought I might like it, I trusted his judgement.  But what I didn't expect from
Zephaniah Sole's "A Crime in the Land of 7000 Islands"
was to be left absolutely floored, breathlessly devouring every word and captivated by the mesmerising tapestry of lore, setting, and impeccable characterisation.
Multiple POV's, locations and timelines had me concentrating as the author introduced us to the main character, Ikagai Johnson and a mystery that led her to become an F.B.I. Agent.
Sole's descriptions are so vivid and alive, you can picture everything as it happens. And along with all the seeming normality, there lurks a darkness, a palpable tension that perfectly sets the stage for a gripping crime narrative.
Characters for me are the lifeblood of any tale, and in this book they jump off the pages. Our protagonist is complex, tormented, but also deeply empathetic. Through her eyes, we learn more about her past, her motives, and the intricate webs of relationships around her. The supporting cast is equally compelling; every character, no matter how minor, has a role to play, a secret to hide, or a motive to unravel.
And, oh my days, the author has an undeniable talent for layering mystery upon mystery. Just when you think you've got a grasp on what's happening, another revelation sends you spiralling. The crimes are chilling, not just for their brutality, but for their profound connection to the culture and lore of the islands. There are puzzles within puzzles, and the reader, along with Junior (Ikigai Johnson) race to piece them together.
There's an undercurrent of social commentary that courses through the book. It's subtle, but it's there—questions about identity, belonging, and the price one pays for history and heritage. These themes enrich the narrative, making it resonate on a much deeper level than your average crime novel.
If I were to nitpick, there might be moments when the lore feels a bit overwhelming, and the back and forth, slightly confusing. But trust me, stick with it. The reward is an immersive experience that not only entertains but enlightens.
Would I recommend this read? With every breath in my body I would! Zephaniah Sole has proven himself to be a force to be reckoned with. This is another one of those books that will haunt your dreams it the best way possible.
If you're a fan of crime fiction that's rich in detail, dripping with atmosphere, and bursting with twisty revelations, then this book is a must-read!