In case you missed the cover reveal earlier last week or want to know more about the author and book… check out KILLER BODIES by Heleen Kist! It's out July 20th and even before reading this one, I know you'll want it on your TBR!
About the Author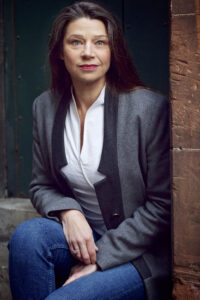 Heleen Kist is a Dutch, formerly globetrotting career woman who fell in love with a Scotsman and his country, and now writes about its (sometimes scary) people from her garden office in Glasgow. 'Killer Bodies' is her fourth novel,
inspired by her hatred of exercising.
She was chosen as an up-and-coming new author at Bloody Scotland 2018. Her novels have been finalists in a range of awards, both in the UK and USA. She yearns to one day 'be the bride'.
Heleen hopes you enjoy her writing and would love to hear from you on twitter (@hkist), Faceboook (@heleenkistauthor) or Goodreads. You can also sign up to her newsletter on www.heleenkist.com.

About the Book
BE CAREFUL WHAT YOU WISH FOR
In a prestigious Edinburgh apartment building, gym receptionist Evie whiles away long hours doodling the deaths of residents who've annoyed her.On her birthday of all days, a man slumps off the exercise bike — dead. She tries to get help, but someone has locked the doors and the phones are out of reach.  When another resident collapses inexplicably, Evie realises the deaths resemble those she drew … and her sketchbook is missing.Was she framed… … or is she next?