Absolutely over the friggin moon to be kicking off the blog tour for Sharon Bairden's YOU NEED ME which is OUT NOW! My thanks to Red Dog Press for the invite and ARC. I'll be heading to Glasgow to chat with Sharon LIVE in Waterstones – Sauchiehall St on Friday Oct 15th and can't bloody wait! First a bit about Sharon and this book before I tell you what I thought!
About the Author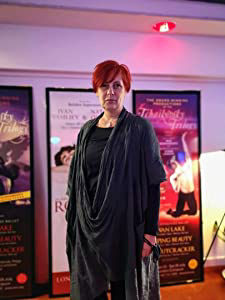 By day Sharon Bairden manages in a small local independent advocacy service and has a passion for human rights; by night she has a passion for all things criminal. She blogs over at Chapterinmylife and is delighted to be crossing over to the other side of the fence to become a writer.
Sharon's debut novel, Sins of the Father, was published in November 2020 and is published by Red Dog Press
You Need Me, will be released on October 12th 2021, also published by Red Dog Press
Sharon lives on the outskirts of Glasgow, has two grown up children, a grandson, a Golden Labrador and a cat. She spends most of her spare time doing all things bookish, from reading to attending as many book festivals and launches as she can. She has been known to step out of her comfort zone on the odd occasion and has walked over burning coals and broken glass – but not at the same time!
About the Book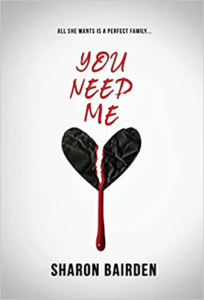 'Your secret didn't die with me.' 
The mysterious note tucked inside the pages of a recently returned book leaves librarian, Morag McLaughlin, chilled to the bone. She knows it was meant for her.
Someone out there knows her darkest secrets and they could destroy everything.
Torn apart from her own family, she will stop at nothing to create a perfect new one.
Why are they all so ungrateful? She's only looking after them…
Isn't she?
Set in Scotland, readers are in for a definite #mindf•ck with Sharon Bairden's latest psychological thriller. You Need Me covers themes such as loss, loneliness, family/relationships, mental health, abuse, the past, a sense of belonging and revealing the truth. OMG readers – buckle up, as you're in for one hell of a ride!
The opening of this novel was perfect – tense, and chilling – I needed to know more. You are told the story from multiple POV's and this adds to the suspense as revelations bubble to the surface leaving you in shock.  The author delivers these like a true pro – seamless! I loved the setting as well and could picture the various locations as Sharon described them – it made for a truly immersive read.
Character-wise, Sharon shows her expertise by delivering believable, relatable characters who you will either love or loathe. What I love about Sharon's books is how she injects the creep factor into the baddies – I literally had goosebumps. I had the opportunity to read this novel as a beta reader and it was great then — but now, it is just phenomenal. The Queen of Creepy Thrillers keeps her crown with this latest book.
Would I recommend this read? You bet your sweet ass I would. Another twisted tale – the author plunges you into the darkest pit, drags you around as your heart races and you gasp for air, before lowering a hand to pull you out and leave you wondering how the heck she does it! NAILED IT!
Make sure you follow the tour to see what everyone else thinks: