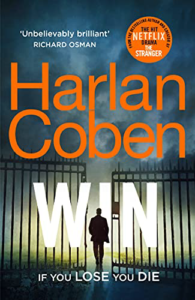 Over twenty years ago, heiress Patricia Lockwood was abducted during a robbery of her family's estate, then locked inside an isolated cabin for months. Patricia escaped, but so did her captors, and the items stolen from her family were never recovered.
Until now.
On New York's Upper West Side, a recluse is found murdered in his penthouse apartment, alongside two objects of note: a stolen Vermeer painting and a leather suitcase bearing the initials WHL3. For the first time in years, the authorities have a lead not only on Patricia's kidnapping but also on another FBI cold case – with the suitcase and painting both pointing them towards one man.
Windsor Horne Lockwood III – or Win as his few friends call him – doesn't know how his suitcase and his family's stolen painting ended up in this dead man's apartment. But he's interested – especially when the FBI tell him that the man who kidnapped his cousin was also behind an act of domestic terrorism, and that he may still be at large.
The two cases have baffled the FBI for decades. But Win has three things the FBI does not:: a personal connection to the case, a large fortune, and his own unique brand of justice …
Set in the U.S the reader is met with secrets/betrayal, consequences/payback, abuse, power, family and justice – whether it is achieved by the right means or not.
First I need to say how much I love this series of books – As soon as I saw that this one was coming out, I knew I had to read it. #FangirlMoment ? The publisher kindly sent me a ARC (thank you!) but I also bought myself a copy. The story starts as it means to go on and immediately I was intrigued – It was WIN – how could I not be curious?
This is a clever and complex storyline, where past and present come together leaving the reader little choice but to read just one more chapter. The chapters end on a hook and my excitement grew – I'm trying to be as vague as I can to avoid spoilers – but I can say that I wasn't disappointed with how the story unfolded.
Windsor Horne Lockwood III aka Win – SWOON! I don't know what it is about this character, but I definitely have a fictional crush! He often takes matters into his own hands but at what or who's cost? Rich beyond belief, Win has no problem meting out the justice he feels people deserve. Frankly speaking, he's a sociopath in some respects, but that is exactly what makes me keep turning those pages. I love his deduction skills which are delivered seamlessly by the author making the reader feel part of the story rather than having to struggle through a whole bunch of information. I also love that we see more of the fatherly / family side of him and how he is learning to show love for his child. There are many other characters who deserve a mention, but on this occassion, I'm just going to suggest you go and read the book!
I think the author gives enough backstory that this book could be read on its own, but recommend you check out all the books that feature Win. Would I recommend this read? I think you know the answer – HELL YEAH! Riveting, emotive, addictive and unputdownable! Do yourself a favour and check it out!