I'm so excited to be able to support a fellow Crime & Publishment success story on the publication of her DEBUT novel! I pre ordered What Goes Around the minute I heard it was up and cannot wait to get stuck in. In the meantime, i have a fabulous #gettingtoknow piece from Ann. First though, let's find out a bit about the author and this thrilling book!
About the Author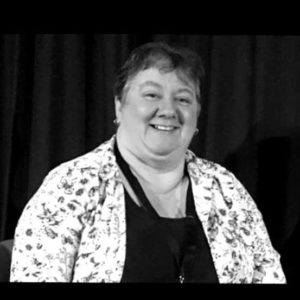 In her own words: Ann is a short, tattooed, married mother of four grown-up children. Her passions include books, cats and rock music. She started writing around ten years ago, but struggled until she discovered a crime writing workshop, called Crime and Publishment, established by author, Graham Smith, in Gretna Green. The support and encouragement she received from her peers, on the course, was fantastic and it prompted her to move with her family from the West Midlands to Scotland, so she could concentrate on her writing. She has had short stories published in two anthologies, titled Happily Never After and Wish You Weren't Here, with all profits going to local charities.
About the Book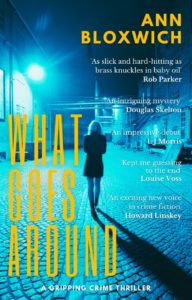 Vicky Wilson is dating Ray Diamond, legendary stripper and renowned bad boy. She goes backstage to see him during a show with friends and disappears.
When a woman's body is found behind the club, DI Alex Peachey and his team are called in to find out who killed Vicky. But with his home life in turmoil, delving into the adult entertainment industry is the last thing he needs, especially with a case as complex as a spider's web. But due to his colleague's sudden illness he doesn't have a choice.
Ray Diamond claims he's being framed. His complete disregard for others means there are a lot of people who would love to see him fall from his pedestal. The question is, does anyone hate him enough to push him? And will DI Peachey be able to prove him culpable of murder before he strikes again?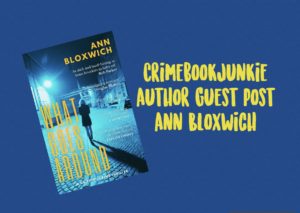 A little Q&A with Ann Bloxwich 
Which character
in your book
do you identify with the most?
Jayne Peachey, because she is based on the relationship I had with my own son. He never put me in hospital, but he did try to hit me on more than one occasion. I have a connection with Mo Ross too, because I was also a huge fan of the Professionals, and I was obsessed with Lewis Collins and I wanted a car like his. Mo is named after my 75-year-old auntie, who thinks it's wonderful to be portrayed as a thirty-something lesbian.
Which character would you like to develop more?
There are a few, but Glyn Mason is the one I'd like to run with the most. In the book he's the owner of a string of casinos, a self-made man with a roguish charm and a hint of darkness about him. The real Glyn is someone I went to school with. Although we weren't friends back then, we chatted for ages at the last school reunion, which is when he asked if he could be in the book.
How many of your characters are based on real people?
Most of them, as I found it easier to picture their mannerisms, style and reactions to certain situations. Les Morris is a good friend and fellow author, who has been killed off in a couple of other authors' books. I promised him I would make him a major character, so he wouldn't have to die. However, they do say you should kill your darlings, so maybe one day he will meet a grisly end.
Wh
en did you first discover
crime fiction?
My ex-husband is in the RAF, and years ago he was deployed to the Falklands for six months, leaving me at home with two small children. He subscribed to the Reader's Digest book club, so we had a huge shelf of condensed books which had never been read. Whilst he was away, I vowed to read every book before he came home, starting with the book at the top left corner of the shelf and working my way along. They were all brilliant stories and I discovered many new authors whose books I still buy now, but it was when I read a story by Dick Francis that I became hooked. I have all of Dick's books and I love them all.
What's your working day like?
I don't really have a regular working day as such. I take my husband and two children to work first, then do the domestic stuff, social media etc. before sitting down to write. I always have Planet Rock on in the background as I can't stand a lot of today's music. Realistically, I aim for four hours a day in the chair, but sometimes spend much longer, especially if it's a new book or I'm getting towards the end. At the moment I'm rewriting the second Alex Peachey book. I've made some glaring errors in the plot, so need to tear it apart and restructure it so it makes more sense.
Who's your author crush?
I can't tell you that, because it would not only embarrass them, but it might also upset those who have a crush on me
?
Tell us five things about yourself that not many people know

.
My nickname is Oompa Loompa. Not only because I'm short, but I've worked in two chocolate factories.
I have nine tattoos. Lee Masters, The tattooist mentioned in 'What Goes Around', is doing my tenth one for me in a couple of weeks.
I used to be a promoter for a group of male strippers.
I'm a beer drinker, the philosophy being you get more liquid for less money with a pint. I like lager and real ale, but mainly drink Guinness these days.
Don't miss out on this brilliant debut – the reviews are incredible. Can't wait to finally read What Goes Around. So proud of you, Ann!