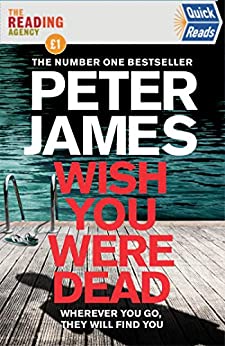 Wish You Were Dead is a Quick Read short story from bestselling author Peter James.
Roy Grace and his family have left Sussex behind for a week's holiday in France. The website promised a grand house, but when they arrive the place is very different from the pictures. And it soon becomes clear that their holiday nightmare is only just beginning.
An old enemy of Roy, a lowlife criminal he had put behind bars, is now out of jail – and out for revenge. He knows where Roy and his family have gone on holiday. Of course he does. He's been hacking their emails – and they are in the perfect spot for him to pay Roy back . . .
*my thanks to MidasPR for the ARC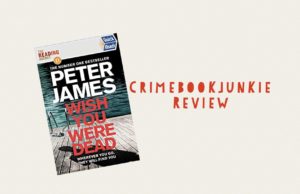 Set in France the reader joins Roy Grace and his family on an holiday that they will never forget! Revenge is at the heart of this story but so is the idea that you would do whatever it takes to protect those you love!
What a fantastic #quickread from Peter James! At just under a hundred pages, I enjoyed joining Roy Grace on a holiday that I'm sure he will never forget. The opening instantly grabbed my attention and the story itself read like a full novel – intense, compelling and heart-racing with a whole lot of action in a short space of time!
The sense of jeopardy was palpable as the story unfolded. Someone was out to harm Roy and those he cares about – would they succeed? I really enjoyed the descriptions in this novella too. You felt the mood of the story as Roy described his surroundings.
It was the type of read that you could immediately jump into, even if you haven't read this series but I definitely recommend checking them all out! Every character added a little bit to move he story forward and I was invested in the outcome.
Would I recommend this #quickread? Absofrigginlutely! Creepy, intense, some dark humour and a mystery all rolled into one – for less than a £1 it is worth every moment!
About QuickReads:
One in six adults in the UK – approximately 9 million people – find reading difficult, and one in three people do not regularly read for pleasure. Quick Reads, which celebrates its 15th anniversary this year, plays a vital role in addressing these shocking statistics by inspiring emergent readers, as well as those with little time or who have fallen out of the reading habit, with entertaining and accessible writing from the very best contemporary authors.
This year's short books include:
–          a dark domestic thriller from British Book Award winner Louise Candlish (The Skylight), who thanks reading for setting her on the right path when she was 'young and adrift'
–          an uplifting romance by the much-loved Katie Fforde (Saving the Day), who never thought she would be able to be an author because of her struggle with dyslexia
–          the holiday from hell for Detective Roy Grace courtesy of long-time literacy campaigner and crime fiction maestro Peter James (Wish You Were Dead)
–          a specially abridged version of the feminist manifesto (How to Be a Woman) by Caitlin Moran: 'everyone deserves to have the concept of female equality in a book they can turn to as a chatty friend.'
–          an introduction to Khurrum Rahman's dope dealer Javid Qasim (The Motive), who previously found the idea of reading a book overwhelming and so started reading late in life, to find 'joy, comfort and an escape'
–          Oyinkan Braithwaite's follow-up to her Booker nominated debut sensationMy Sister, the Serial Killer – a family drama set in lockdown Lagos (The Baby is Mine)
Over 5 million Quick Reads have been distributed since the life-changing programme launched in 2006. From 2020 – 2022, the initiative is supported by a philanthropic gift from bestselling author Jojo Moyes. This year, for every book bought until 31 July 2021, another copy will be gifted to help someone discover the joy of reading. 'Buy one, gift one' will see thousands of free books given to organisations across the UK to reach less confident readers and those with limited access to books – bring the joy and transformative benefits of reading to new audiences.