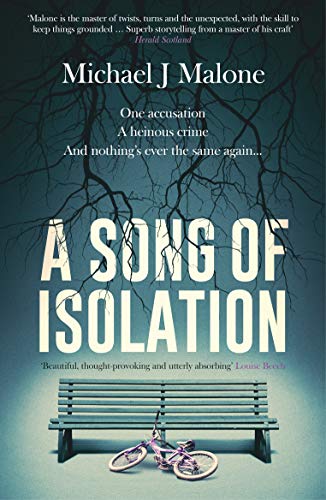 Film star Amelie Hart is the darling of the silver screen, appearing on the front pages of every newspaper. But at the peak of her fame she throws it all away for a regular guy with an ordinary job. The gossip columns are aghast: what happened to the woman who turned heads wherever she went?
Any hope the furore will die down are crushed when Amelie's boyfriend Dave is arrested on charges of child sexual abuse. Dave strongly asserts his innocence, and when Amelie refuses to denounce him, the press witch hunt quickly turns into physical violence, and she has to flee the country.
While Dave is locked up with the most depraved men in the country and Amelie is hiding on the continent, Damaris, the victim at the centre of the story, is isolated – a child trying to make sense of an adult world.
Breathtakingly brutal, dark and immensely moving, A Song of Isolation looks beneath the magpie glimmer of celebrity to uncover a sinister world dominated by greed and lies, and the unfathomable destruction of innocent lives … in an instant.

A Song of Isolation starts in London but also is set it Scotland and France. Themes present include but are not limited to: fear, stalking, control, abuse, betrayal, consequences, isolation and a search for the truth. Man oh friggin man – prepare to read this and never forget it.
A heart racing opening had me hooked – the words had me gripped — almost hypnotised — as the author is such a master of prose. It is told from multiple POV's so you really get an understanding of what the main players are feeling and experiencing. There is a sadness but also an intense feeling of anger hanging over the pages as I read this book. Shocking, intense, raw, traumatic – OMFG I was just blown away! The author handles such a difficult topic with sensitivity while also leaving the reader wanting to see justice done.
This story really resonated with me as I had a friend who faced a similar situation and claimed his innocence for a different crime but no matter the outcome, the damage had been done and it took him and those around him years to deal with the repercussions: mental, financial, emotional… It was infuriating and devastating. This is how I felt reading this book. When a book can evoke such strong emotions, you know you're onto something special.
The characters are what really brought this story alive – a variety of ages and voices – incredibly real, I felt like I knew them. Michael Malone is a pure genius when it comes to storytelling. I am always glued to the pages and he often chooses subjects that hit a chord. This one did just that.
Would I recommend this book? With my very last breath I would! An absolutely heart-wrenching, honest, intense and haunting read. I bloody loved it!