Not many non-crime books make it to my blog, but I always make an exception for Kim Nash! Delighted to be a part of the Moonlight Over Muddleford Cove blog tour today and my thanks to Rachel's Random Resources for the invite! First let me tell you about the author and this book before I share my review!
About the Author 

Kim Nash is an author of uplifting, funny, heartwarming, feel-good, romantic fiction and has always wanted to write books since she was a little girl.
She lives in Staffordshire with son Ollie and English Setter rescue dog Roni, is Head of Publicity for publisher Bookouture (part of Hachette UK) and is a book blogger at www.kimthebookworm.co.uk.
Kim won the Romantic Novelists Association's Media Star of the Year in 2016, which she still can't quite believe. She is now quite delighted to be a member of the RNA as an author.
When she's not working or writing, and in non-Covid times, Kim can be found walking her dog at Cannock Chase, reading, writing, standing on the sidelines of a football pitch cheering on Ollie, and binge watching box sets on the TV. She's also quite partial to a spa day and a gin and tonic (not at the same time!) Kim also runs a book club in Cannock, Staffs and organises local and national reader/author events.
About the Book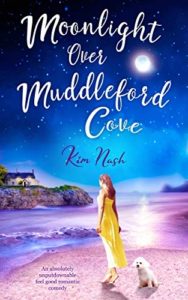 When thirty-four-year-old Nellie Wagstaff loses her job and discovers her fiancé is a cheating scumbag in a single day, she feels like the world has come crashing down. And that's before the solicitor's letter, along with a request to visit a place she hasn't thought about for a very long time.
Heartbroken, Nellie escapes to the beautiful seaside town of Muddleford in Dorset, where she discovers she's inherited more than she ever bargained for. Nellie never knew why her mother stopped talking to her sister, but now childhood memories of Muddleford come flooding back: long hot summers, the sea glistening beyond the sandy cove… and a stolen kiss with a boy called Jack.
Jack, now a devilishly handsome vet, has the local pet owners swooning over him, and as Nellie and he become close once more, and she gets used to gossiping with the locals and sipping wine at her beach hut with sand between her toes, she's sure she can feel sparks flying once more. But just as she thinks she might be able to open her heart again, her newest frenemy, the glamourous Natalia, tells her a secret about Jack that changes everything.
Nellie will never know why her mother and aunt parted ways. She'll sell the house, forget about Jack, and get back to real life. Because there's nothing for her in Muddleford… is there?
An utterly uplifting and completely hilarious summer read about learning to trust yourself and of finding love and friendship in the least expected places for fans of Jessica Redland, Heidi Swain and Holly Martin.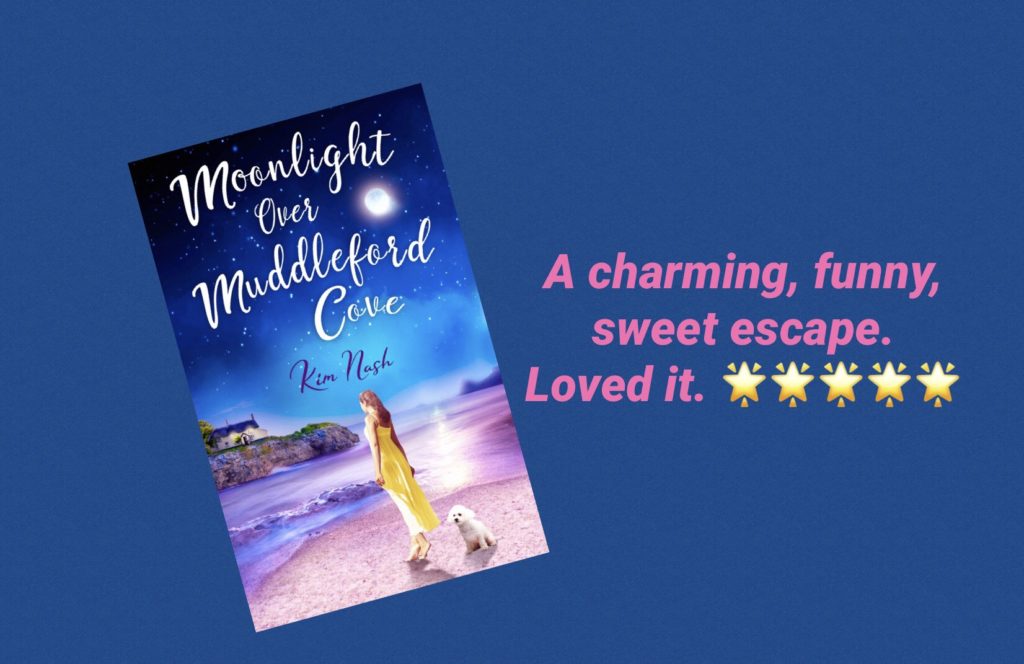 If you follow my blog, you will know that I am all about crime fiction – however once in awhile I do indulge in a lighter read…one that will uplift my mood, put a smile on my face and just make me feel all warm and fuzzy. As much as I love the #darkside – now and then a little light is needed and Moonlight Over Muddleford Cove was just the ticket. Set in the fictional town of Muddleford (Dorset way) the reader is faced with loss, finding oneself, friendships & relationships, making changes and facing your fear, going outside of your comfort zone, new beginnings, love and happiness. After reading all of Kim's books to date – making changes and facing your fears seems to be a common thread – you have to make that change as it's not just going to happen magically!
I'm not going to go into the story in detail – that's what the blurb and reading the book is for. But I'll chat about a few things I loved. The opening left me really feeling for Nellie. It seemed that Murphy's Law played a big part in her life and I could see that she needed something good to happen. Cue her Aunty and the delivery of a letter. The contents are life changing and bring Nellie back to a place that brought her some happy childhood memories. But will she have the courage to take the opportunities handed to her on a plate or will she chose to stay in her comfort zone even though it is not what makes her happy? The storyline was sweet, funny, emotive and totally relatable for any age. That's what I like about this author's books – not only could I relate to the characters now – but also apply those situations to times in my own youth and wonder what would have happened if I had gone down a different road.
Character-wise we meet a diverse crew of peeps and I loved that too. From love, to friendship, to colleagues – old, young, different races and genders. It's a great mix. The narrative was real, often funny and again, oh-so relatable. I was nodding, laughing, even had a bit of water dripping from my eye at times. There was also a fab twist which I thought was so clever – you'll have to read the book to find out though. I certainly didn't see it coming!
Would I recommend this read? With all the sparkle and joy I would indeed! Moonlight Over Muddleford Cove is an addictive, romantic, fabulously feel-good read that will leave you with a huge smile on your face. If you're in the mood for something that will give you the warm fuzzies – grab a copy of this today!
Now back to the darkness for me!