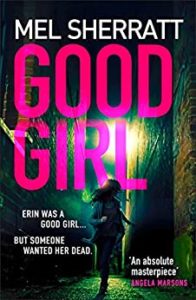 When sixteen-year-old Erin Ellis is attacked, she dies in the arms of her best friend Molly, just metres from her home. Molly is the surviving girl but says she easily could have been the victim – it was a random mugging gone wrong.
With inconclusive evidence, DS Grace Allendale must dig deep within the tight-knit Stoke community for leads. And she soon finds that someone had a motive to kill Erin.
As the investigation unfolds, Grace is reminded of a horrifying case she worked on earlier in her career.
Is the past coming back to haunt her? And can she push through her fear to catch Erin's killer before it's too late?

Set in Stoke, Staffordshire the reader is faced with friendships, secrets, exploitation, guilt, blame, manipulation, loss, and a search for justice…cue Grace!
I have been a HUGE fan of Mel Sherratt for many years… bought and read all of her books and they just keep getting better! This book has it all – a hooky opening, fast paced storyline, relatable characters, and a few OMFG moments to catch the reader off guard.
What I love about this author and her books is the way that she makes the reader feel a part of the story, as if you know the people (characters) and you are just so invested! Every storyline has it's own twist – it's been 'mel-anised' and even if you think you've read something similar, the author proves you wrong.
Grace is clever, determined and no one to take any crap – even if it is personal. I love that familiar faces from the previous books in this series resurface, including the Steele's and this ramps up the conflict and tension.
Would I recommend this read? Hells bells, you know I would…do…always will! A belting story that had me up into the early hours – addictive, chilling and incredibly real, if you haven't read Mel Sherratt's books yet, I highly recommend you rectify that ASAP!