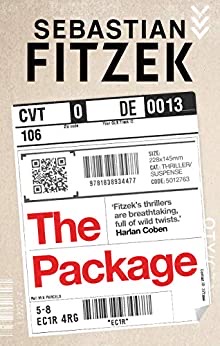 Emma's the one that got away.
The only survivor of a killer known in the tabloids as 'the hairdresser' – because of the trophies he takes from his victims.
Or she thinks she was.
The police aren't convinced. Nor is her husband. She never even saw her tormentor properly, but now she recognises him in every man.
Questioning her sanity, she gives up her job as a doctor in the local hospital and retreats from the world. It is better to stay at home. Quiet. Anonymous. Safe. No one can hurt her here.
And all she did was take a parcel for a neighbour.
She has no idea what she's let into her home.

Set in Germany this was a whirlwind of a read – gaslighting, psychological abuse, fear, secrets, lies and a search for the truth all kept me turning those pages!
The prologue was intense and hooky – so of course, I wanted to know more! The book had a dual timeline and although I did find myself a little confused at times – I remained completely engaged.
Many of the characters made my skin crawl or my head shake but I thought the author did a good job and making me work to solve what exactly was happening! I wasn't sure what I made of Emma – She annoyed me at times but then I also felt sorry for her.
Would I recommend this read? Absolutely! It was creepy, tense and despite its length, I read it pretty quickly. Complex and chilling – I loved the sinister vibes! Recommended!