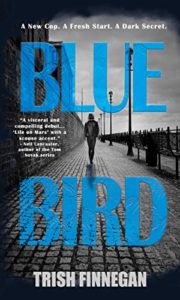 A new cop. A fresh start. A dark secret.
It's the blisteringly hot summer of 1976, and WPC Samantha Barrie is Wyre Hall police station's newest recruit.
When young girls start to go missing, Sam finds herself at the centre of an investigation which goes far deeper than anyone expected, exposing divisions in both the community and the police force itself.
As Sam gets pulled further and further into the dark and seedy underbelly of her town, she finds herself battling against not only organised criminals and the prejudices of her new colleagues, but also her own demons.
Who can she trust? How can she keep safe those she's pledged to protect? How can she keep her head when forced to confront her own terrifying past?
Blue Bird is the debut novel from Trish Finnegan, a police thriller with a twist. A story of dark secrets, and innocence lost.


Blue Bird is a debut by Trish Finnegan. Set in the 1970's this novel will appeal to fans of historical crime fiction. Various themes present themselves: abduction, exploitation, corruption, sexism, blackmail and a search for the truth. The opening of this novel had me hooked. This was a slow build of suspense, a lot of police daily routines set the first half of the novel but the second half picks up rapidly and OMG what happens is compelling! Mainly told through the POV of Sam Barrie – a WPC in a very male dominated police team. She is desperate to prove herself and places herself in situations that leave her vulnerable. Her backstory is interesting and when the revelations appear and the story wraps up – you might find yourself a little shocked – in a good way! I liked the contrast of policing between now and back then and how Sam was almost ahead of her time. Some parts felt a little more modern than the time period but it didn't detract from the story at all. This is a debut that screams with authenticity. Would I recommend it? Absolutely – it's edgy, gritty, insightful, tackles systematic issues and has a great storyline with interesting characters. I hope to see more of Sam Barrie's journey in the future! Thanks to Burning Chair Publishing for the ARC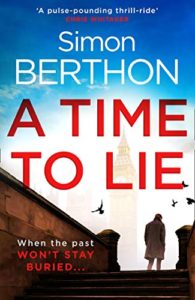 A LONG-BURIED BODY.
On the morning of the Tory Party conference, the bones of a young woman's hand are discovered in a London building site.
A DIVISIVE PRIME MINISTER.
Prime Minister Robin Sandford is accused of killer her. With his career on the brink of ruin, he enlists the unofficial help of MI5. A decision which leads him into a new world of espionage, mass executions and murder.
A PLOT TO BRING HIM DOWN…
The deeper he goes, the more treacherous the game becomes. And if he fails to expose the truth, the whole country will pay the price…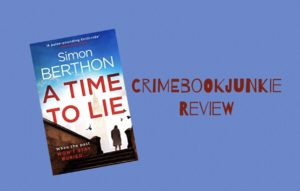 A Time To Lie by Simon Berthon. Set in London, this spy thriller had me on the edge of my seat. Espionage, trafficking, corruption, power are just some of the themes you will come across as you race through the pages. Such an intriguing opening – not too much to give things away but just enough to hook the reader and keep you turning those pages! This was very much a political/spy crime thriller but you aren't overloaded – so it makes it quite an easy and enjoyable read. There was a bunch of devious but interesting characters in this novel. From the horrible to the charming, I wasn't completely sure who to believe – most were politicians…need I say more! despite this I found myself needing to know more. Would I recommend this book? You bet your ass I would. I loved this intense, riveting and utterly compulsive read and will look out for more from this author in the future! Thanks to Finn Cotton and HQ for the ARC.
In rural Somerset in the middle of a blizzard, the unthinkable happens: a school is under siege.
Pupils and teachers barricade themselves into classrooms, the library, the theatre. The headmaster lies wounded in the library, unable to help his trapped students and staff. Outside, a police psychiatrist must identify the gunmen, while parents gather desperate for news.
In three intense hours, all must find the courage to stand up to evil and save the people they love.

I choose and read Three Hours by Rosamund Lupton as part of the Bookouture Book Club that my publisher has in-house. I had been seeing so many great reviews and wanted in on that action. Set in Somerset, during a violent winter storm, the reader comes across fear, paranoia, a school shooting, survival, exclusion, manipulation and so much more! What an absolutely INTENSE opening. So emotive – it perfectly sets up the reader for the story ahead. Told from multiple POV's, you really get to see and feel what others in the situation are going through. The sense of jeopardy is gripping. Divided into parts, the author cleverly and flawlessly ramps up the tension. I found the characters to be realistic and authentic – you almost feel like a victim and an on looker as you turn the pages. I think I found this a little slower than others who have read it – parts that felt like they could have been cut shorter, but that might be because I just wanted to see what happened and became impatient! Would I recommend this book? Hell to the yeah – I would! An emotive, compelling and intensely claustrophobic read – the storyline stuck with me for days after.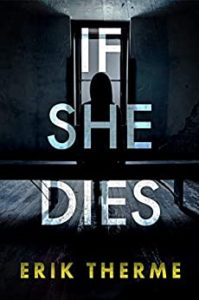 How far would you go to right a wrong?
Nine months ago, Tess's five-year-old daughter was killed in a car accident. The driver, Brady Becker, was sentenced to two years in prison. It didn't make Tess's pain go away.
Brady also has a daughter: A twelve-year-old named Eve who walks to Chandler Middle School every day. Tess knows this because she's been watching Eve for the last three weeks. It isn't fair that Brady's daughter gets to live, while Tess's daughter does not.
When Eve goes missing, all eyes turn to Tess, who doesn't have an alibi. But Tess isn't guilty.
Or so she believes.

If She Dies 
by
Erik Therme
is set in a small town in the USA and the reader comes across grief, loss, manipulation, betrayal, secrets, blame and so much more! OMG what a brilliant opening! Totally unexpected and one of those starts that really grabs the reader by the throat – I needed to know what would happen next! You are kind of lead into a false sense of security – the suspense builds slowly, which for me is how I like my psychological thrillers – but then OMFG the main character's world starts to spiral even more. What a ride! I loved ALL the characters  – some unreliable, some nasty, some vulnerable…I found myself easily invested in them. The author threw in a few red herrings which made my head spin in the best possible way.
Would I recommend this read? Does a bear shit in the woods? This unnerving, gripping, and chilling read had me racing through the pages!
My thanks to the author for an ARC.