If you're signed up to my newsletter, some of this is stuff you'll have already read – but what wasn't included, is what I'm curently doing in terms of my writing. So I guess this is an exclusive? ? Before that though, I'd love it if you would sign up to my newsletter as I do send these out from time to time (no spam, I promise) and if I have any #giveaways – this is where I go for entries! Sign up here!
Ok, ok… so what's this #exclusive news you ask? I've written and submitted Book 5 in the DC Maggie Jamieson series a few months back – release details coming soon. This was the final book in my contract – so technically, that's it… I'm out of contract. However, while we wait and see how the next two books do, my publisher has asked me to submit some ideas for a standalone psychological thriller – I sent in four ideas – and now I wait! ?? I've always wanted to try writing a standalone psych-thriller, so fingers crossed at least one of the ideas piques my publisher's interest – saying that … I've been thinking of others, so all is not lost if those I have put forward are not what they are looking for.
I'll be honest, I'm not even sure I can write one ???‍♀️ The thought of a pure standalone scares me and hats off to all my fellow authors who do this on a regular basis. I do like a challenge though – so I'm pretty excited at what dark, sinister and twisty thoughts will invade my head over the coming months. In the meantime, I have quite a lot to look forward to for the rest of the year… so read on! Will Maggie return after Book 5? Who knows… but you still have Dead Secret and the next in the one in the series to enjoy!

Dead Secret is now available for pre order! Ebook releases April 23rd and the paperback comes out July 22nd.
'Enthralling from the first page to the last. Devoured in one sitting. Noelle Holten has become one of my must-read authors' Angela Marsons, bestselling author of the Detective Kim Stone series
Psychopaths can take root in the unlikeliest soil…
DC Maggie Jamieson crosses paths once again with Probation Officer Lucy Sherwood when a domestic violence survivor stumbles into her new refuge, unable to speak, desperate for help.
Then another case hits Maggie's desk. A young man has been murdered, and a curious constellation of black dots has been inked onto his cheek.
That's when DCI Hastings goes missing and Maggie uncovers a shocking connection that turns the case on its head.
Every family may hide secrets, but not every family buries them…
I have a few upcoming events that I'm mega excited to take part in:

BloodBrothers Big Book Blowout
I'm delighted to be taking part it this on June 12th 2021. So what's it about?
The Blood Brothers Big Book Blowout (2021) is already set to be THE online crime festival of the year. 30 crime authors share their stories over 6 panels. Full line-up to be announced soon, but it is HUGE!
Also. The whole thing is FREE. Yes. £0. So make sure you register!
But before that ?? I have two events coming up in March! 

Super excited to have been asked to take part in a panel for #SYPScotland #AltRoutes to talk about my journey from being a Senior Probation Officer to working in the book industry with some fabulous peeps!
Find out more and register here:  bit.ly/3rfakVZ

Finally, join Sharon Bairden – debut author of psychological thriller Sins of the Father and me for the Reading Between the Lines Online Book Festival on March 27th at 8 pm. You can join the live stream on the day – follow me via social media or search READING BETWEEN THE LINES ONLINE BOOK PROMOTIONS.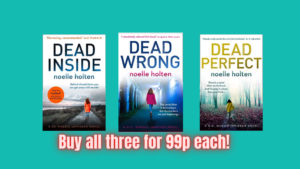 ? Promo Alert! ? If you're in the United Kingdom, for just £3 you can get your hands on all three #ebooks in the #DCMaggieJamieson crime thriller series! And if you have them… why not gift a friend? What a deal!
#DeadInside is also #free on #UK #kindleunlimited

I'm trying to build up my Bookbub profile and would love a follow!
Finally – here are some amazing books I've recently read and highly recommend! If the reviews are not already on my blog – you can search for them by typing in the title – they will be!