This is not a typical review – no book involved – but still crime! That's right – there was a murder and it was up to my #partnerincrime Sharon Bairden and I to put our murderous minds and sleuthing skills to good use and play against each other to solve the crime in FOUL PLAY: The Murder Mystery Card Game! I'll tell you a little about the game below and share the video/ link where you can watch us playing the game as well as share my review!
About the Game – Face Crime (Online version)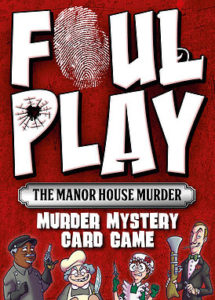 Welcome to Edwardian England. The Lord of the Manor is dead! The servants are in the frame and it's up to you to swap, steal or search for the evidence, seek out the suspects and catch the culprit in order to scupper the other sleuths, and win this game of murder!
You would never suppress evidence to keep a culprit from being arrested for a crime would you Detective? …Or would you?
This online with friends version of Foul Play takes Bad Cop from bad to worse.
Imagine you'd uncovered a suspect involved in the death of Lord D'Arque, then imagine they'd offered you a large sum of money to keep quiet. Well, money talks and you know, being the good guy doesn't always pay so well. Protect and serve, it's your duty. Protect the identity of this suspect, keep them concealed and it will certainly serve you well, financially speaking.
The only problem is that you ain't the only bad cop in town, other dastardly detectives are on your case. They are looking to scupper your deal and reveal the identity of your suspect, so they go down for the crime. It seems you're not the only Detective who's been paid a tidy sum by a  suspect to get them out of a murderous mess. It's up to you to work out and reveal the identity of each Detective's suspect, putting them in the frame and helping yours run free, get the picture? Use the evidence to correctly deduce which suspect other Detectives are attempting to protect using any means necessary. Whether it be fair play or foul play!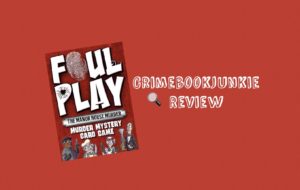 What I liked: This was a fantastic game – guess who meets cluedo – where you use your deduction skills to identify a killer. Right up my street as I fancy myself a bit of an armchair detective. The rules, which you can find here are easy to follow – though Sharon and I had to read them a few times as we were confusing the face-to-face with the online rules … that was on us though ?. We had such a good time trying to outwit each other – it's a quick game – about 40 mins…less, if you are a real Sherlock Holmes and if you're competitive like me, you'll try every trick in the book to make sure you identify the culprit before anyone else does. Clever, addictive and so much fun – I highly recommend this game and look forward to another evening of criminal fun with Sharon soon.
There was one thing I didn't like about the game though … I lost… this time! ??
You can watch Sharon take the ?crown…or the ?magnifying glass here: