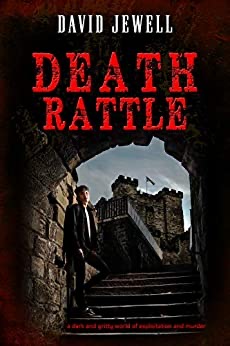 When a body is found stabbed to death in a notorious Newcastle upon Tyne gay cruising area, Detective Inspector Jack Slade of the Homicide and Major Enquiry Team lands the case. What appears to be a robbery gone wrong takes a dramatic turn when the identity of the victim is revealed.
Slade is drawn into a dark underworld and is forced to seek help from people on the fringes of the Newcastle gay scene, Jack finds himself embroiled in a sinister world of sexual exploitation, missing teenagers and murders.
When his unorthodox methods result in the death of a suspect, Slade finds himself suddenly on the outside, shunned by his colleagues and himself a suspect in a homicide. He must uncover the truth about the murders, before he himself becomes a victim.
Not for the faint hearted, 'Death Rattle' is a dark and hauntingly realistic tale of corruption, sex and murder, set against the background of a tough Northern city.
The gripping debut novel from crime writer and former police detective, David Jewell.

This is a Northern set novel which throws the reader into a world where homophobia is rife; corruption, blackmail and power are the norm and fear, anger and mistrust lead to a search for the truth & justice.
I was really intrigued by the opening – the author set out quite a lead in to what would be a shocking storyline. It was clear that the author had experience in the field (retired police detective no less) with the details shared and sprinkled throughout. The storyline had both an old school and modern day feel to it. It was a gritty, dark and a somewhat pacy read – I certainly had to keep turning the pages!
The characters were an interesting feature in this novel. Many left me feeling quite uncomfortable with their language and beliefs while others I just wanted to reach out to and keep safe! Jack Slade, the MC is a copper who's determined to get justice no matter who he has to go up against. His determination and methods have the reader rooting for him.
Along with being a procedural of sort, there's also an unmistakeable NOIR feel to this novel. Almost like a gumshoe detective has been living in a modern day policeman's body – I liked it – it gave the character a distinction you don't often see in this genre.
Would I recommend this read? For a debut novel, I thought it was chilling, edgy and a little bit different – so yeah, I definitely would – but if you are offended easily, this is not the book for you as it touches on some real and serious issues that aren't glossed over in the least!