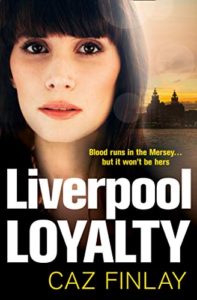 Keep your friends close…
When Grace Carter's boys are arrested for murder, she's forced to call on her most trusted and loyal connections to keep the boys out of prison. She'll even ask for help from those she would usually avoid like the plague…
But your enemies closer!
DI Leigh Moss has the power to save Grace's boys, but she's determined to bring Grace and the Carter clan down once and for all.  Leigh might owe Grace her life, but her loyalty now lies with her job and protecting the streets of Liverpool.  Until Leigh needs Grace's help, too.
There is a battle coming to Liverpool and only the most loyal will survive.

Set in Liverpool, the reader is on a wild ride where revenge, family, loyalty and the lengths you'd go to protect those you love reach an explosive head!
I squealed with excitement when I was given the opportunity to read this book as the #BadBlood series is a firm fave of mine. Once I read the opening, I knew my plans were shot as there was no way in hell I was doing anything other than reading this book! Compulsive, thrilling and bloody emotive – this book…no, this series…is one you need to have on your TBR!
Grace Carter is not a woman to be messed with – yet those #badass crime bosses still keep coming and Grace is ready for each and every one. Tension in the Carter household as Connor and Jake are fighting for their freedom and Michael and Grace don't know who they can trust.
So would I recommend this read? OMG YES! Fierce as f*ck, #GraceCarter is back in #LiverpoolLoyalty & she's a force not to be reckoned with! Gritty, compulsive & shocking at times – I savoured every word of this fantastic read! And that ending…. ?Holy sh*tballs! Highly recommended!