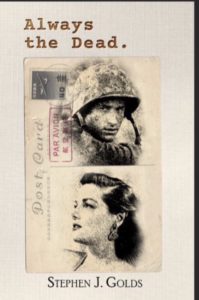 Los Angeles, California. 1949.
Scott Kelly is a World War Two Marine veteran and mob hitman confined to a Tuberculosis sanatorium suffering from consumption, flashbacks and nightmares from his experiences of The Battle of Okinawa and a botched hit for Bugsy Siegel.
When his movie actress girlfriend disappears, he bribes his way out of the sanatorium to search for her.
What follows is a frantic search, a manic murder spree, stolen contraband, and a briefcase full of cash.
A story that stretches from the war torn beaches of Okinawa, all the way to the playground of the rich and famous, Palm Springs, California.
An exploration into the depths of L.A crime, PTSD and twisted love.
A semi-fictional novel based around the disappearance of Jean Spangler.

Set in California in the late 1940's the readers is taken on a disturbingly dark journey where obsession, violence, anger, sadness, PTSD, revenge/payback, karma, personal demons, relationships surround a mystery and ultimately ends in…well, I can't tell you that or I'll spoil the book. Read on…
Wow! What a read! Complex, intense, incredibly raw – the story takes hold and that's it – you'll be hooked. I wasn't sure what to make of it all at first – this isn't a fast-paced thriller. It's a (rightly so!) slow burning build up of suspense – characters are introduced and through their narrative, which is often hard-hitting but a true reflection of the times, you learn everything you need to know. There is a mystery, a journey of discovery, violence, and a satisfying conclusion that totally blew my mind! The writing is taut, the story emotive, and the characters well developed. Just brilliant!
I usually wait to write my reviews, so I can let the story settle – but this book niggled at my mind and I just had to write down my immediate thoughts before the feeling got lost in a page full of notes – losing their edge. Character-wise, we are given a diverse and crazy cast that take hold. I was really drawn to them – and therefore invested in the story. As fascinating as the story is – it is the characters that bring the pages alive. The fact that  the book is classed as semi-fictional made it all the more interesting for me. I want to talk about every single character that I came across, but you really need to 'meet' them yourself – instead, I'll just mention Scott Kelly – the main character. Scott Kelly is an Irish immigrant who moved from Kerry to the States with his parents. He is ex-military (a marine) who ends up in California, running a bar until consumption leads him to a stay in hospital. When he learns that his girlfiend is missing, Scott begins to examine his life – and what ensues is a physical and mental journey guised as a search for the love of his life.
This is a complex mystery with many visceral and realistically raw themes. Would I recommend this book? Does a bear sh*t in the woods? You bet your ass I would! Dark and disturbing – delve into the depths of this chilling, noir read and hope you come out unscathed. I found it hard to read at times but even harder to put down! This is the first book I have read by this author – it won't be the last!