??  Happy Publication Day, Chris!  ??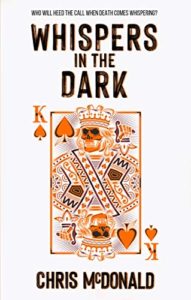 Who will heed the call when Death comes whispering?
Small time drug dealer, Marcus Stone and DCI Clive Burston had never met until one night in August. By the end of that night, both had been shot dead in a small bedroom in the heart of gang territory.
DI Erika Piper is called to the scene but is at a loss to explain what's happened. How did these two even meet, let alone end up dead in what appears to be a strange murder-suicide? As Erika leads the investigation, another two bodies are found, killed in a similar fashion. One murder, one suicide. But who is controlling this macabre puppet show?
As Erika delves deeper into the lives of the dead, the pieces begin to fit together and a number of nefarious characters crawl out of the woodwork – one of whom is almost certainly pulling the strings.
A catastrophic event and a personal miracle threaten to derail the investigation. Erika must find the strength to continue, before the whispers catch up with her too…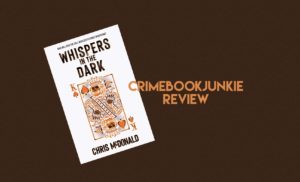 Set in Manchester, the reader will face loss, change, new beginnings, guilt, hope, revenge, justice – a whole crazy mishmash of emotions that will keep you turning the pages.
Holy friggin sh*tballs! What an absolute roller coaster ride of a read! Seriously! Chris McDonald delivers an opening that was absolutely harrowing and grabbed me by the throat instantly! The author has knocked it out of the park with the latest in the DI Erika Piper series. A compelling storyline will draw you in and a superb narrative will keep you wanting more. Emotive, thrilling, and so god damn chilling – OMFG this book BROKE me – incredible!
Character wise we are re-introduced to the fabulous cast from the author's debut – DI Erika Piper is one of my faves and when the book opened with her dancing to Mr Brightside – well I found my female fictional soulmate! What really made her stand out to me in Whispers in the Dark was how vulnerable we see Erika – and this added a new dimension to this strong female lead.
The storyline is further propelled forward by a vast array of fabulous characters – fleshed out so the reader understands their purpose and feel invested in the story itself.
Would I recommend this read? OMFG – A massive Hell-to-the-Yes! This book will knock you for six. Chris McDonald demonstrates what an accomplished author he is and delivers an emotive, real, raw, compulsive and thrilling second book. Whispers in the Dark is simply PHENOMENAL. I'm expecting greatness for Book 3 ? Highly recommended!