I don't generally review films, plays or shows on my blog – but this is more of an online event and I enjoyed it more than I expected I would. First, here's a little but about WHAT A CARVE UP and also a link to a post I did giving you all the details on where to buy tickets: https://crimebookjunkie.co.uk/2020/10/whatacarveup/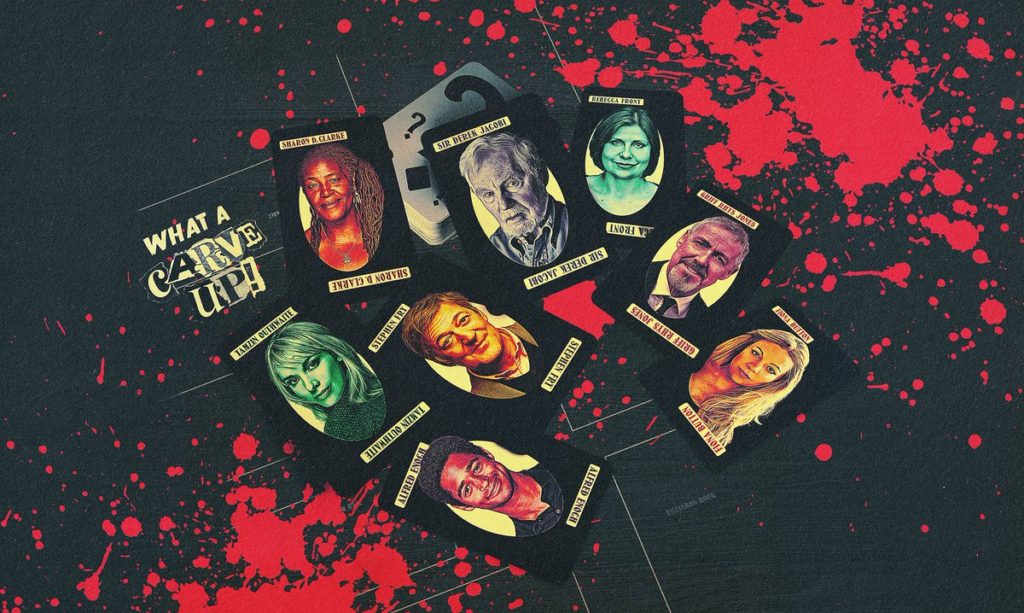 January 1991. Six people are dead. Murdered.
One thing in common – they are members of one of the most corrupt, powerful and toxic families in the country. One prime suspect – the celebrated writer in the middle of compiling a history of the family.
Suitable for those 16+ (Features strong language and graphic descriptions of murder). All screenings have captioning functionality.
Absolutely fantastic! A great intro – the hook delivered – and that was it… my backside was firmly planted on my couch as I settled in to watch the online adaptation of Jonathan Coe's novel What A Carve Up!
Henry Filloux-Bennett and Tamara Harvey did an excellent job! This was pure escapism. A cleverly constructed murder mystery that had a crime #docuseries feel to it. I really enjoyed how everything came together.

The actors were fantastic and you really got a feel for the story where blame, scandal, corruption, greed, loss and a search for the truth had me trying to guess just as I would in a novel. You get a great feel for the story as it is delivered from different perspectives and since I had 48 hours, I watched it again! I just love a #whodunnit and have to say that I'd love to see more adaptations like this.
As I said at the start, I'm not a drama/series critic – I read books and I say what I feel and what I can say is this show gets an easy 5 glowing stars ⭐️⭐️⭐️⭐️⭐️ from me! I definitely recommend checking out What A Carve Up – it's innovative, captivating, twisty and addictive! Get your ticket today!