On Friday Nov 27th you may have heard a high-pitched squeal of excitement – that was me celebrating the ?? Publication Day ?? of debut novelist and #bestest of friends, Sharon Bairden as Sins of the Father was released to the world.  Today I'm honoured and thrilled to be taking part in her blog tour (eeek!) and sharing my review (eeeek again!) with you all today! Thanks to Meggy Roussel for the invite and Red Dog Press for the ARC.
The #QueenOfCreepyCrime is here and going nowhere! A dark & twisty read, #SinsOfTheFather by Sharon Bairden will have you racing through the pages as each revelation leaves you gasping for breath! What a debut!
Here's a bit about the author and book first…
About the Author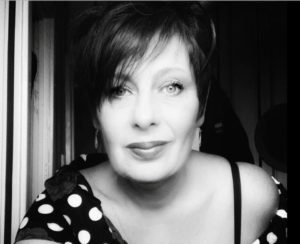 By day Sharon
Bairden
is the Services Manager in a small, local independent advocacy service and has a passion for human rights; by night she has a passion for all things criminal. She blogs about books at
Chapterinmylife
and is delighted to be crossing over to the other side of the fence to become a writer. Sharon lives on the outskirts of Glasgow, has two grown up children, a grandson, a Golden Labrador and a cat. She spends most of her spare time doing all things bookish, from reading to attending as many book festivals and launches as she can. She has been known to step out of her comfort zone on the odd occasion and has walked over burning coals and broken glass – but not at the same time!

About the Book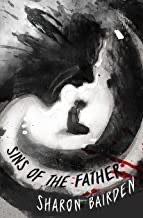 Lucas Findlay thinks he has struck gold when he marries Rebecca, but she married him for one reason only – to destroy him.
Trauma runs deep
When her past comes back to haunt her, Rebecca begins to disconnect from herself and the world around her. As secrets are unearthed, she begins to fear for her sanity … and her life.
Truth will out
With her world unravelling around her, Rebecca clings to her determination to make Lucas pay, whatever the cost.
Forgive his sins
But someone must pay for the sins of the father…

Set in Glasgow, the reader is taken on a harrowing journey of abuse, mental illness, loss, mistrust, revenge, sadness, isolation, nature vs nurture, trauma – prepare to have your emotions torn to shreds. It's brilliant!
I knew the author had a twisted mind, but I hadn't realised how twisted until I read the opening chapter of this book! Goosebumps made a permanent home on my arms as I raced through the pages of this novel. A complex web of deceit, dark and intense – jaysus, my poor nails were gone by the end! The characters and narrative get right into your head and mess with your mind. A darkness lurks on the pages but I also felt this small glimmer of hope for the main character – Rebecca Findlay. A traumatised child, a troubled adult – a heartbreaking life. The author nailed the twists and had me invested in the story and characters – a gritty, stark and intense debut – bloody brilliant!
We're introduced to a fantastic cast of characters – some you will love, some you will loathe but all of them move the story forward at the perfect pace. I questioned a lot of the characters – what did they really know? What role did they play? An aspect of unreliability at times had me reeling – I could relate to the feelings of mistrust as the author was relentless and masterful in her delivery of OMFG moments.
Would I recommend this read? Holy friggin sh*tballs, you bet your ass I would!
Sharon Bairden's debut novel, Sins of the Father is  – raw, intense and emotive. The 'Queen of Things Oh-So-Creepy' has entered the realm of psychological thrillers and I for one will never look at her the same again. Grab a blanket, curl up on the couch and prepare to have your mind blown! 5
?
's Highly recommended read!
Follow the #SotF tour here and see what everyone else is saying: