I'm sooooo behind on reviews ? that I figured the best way to catch up would be to do some mini reviews as the day job and writing/editing in the evenings has just taken up the majority of my free time. First I'll start out with my Bloody Scotland reads – the books I was lucky enough to read as part of the #longlist for the McIlvanney Prize.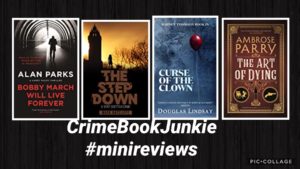 In no particular order, first up is Alan Parks' Bobby March Will Live Forever: 

This is the third book in the series but I had no issue reading it as a stand-alone. A dark and gritty read, I particularly loved the setting. It really captured the feel of the time. Great characterisation and build up of suspense. It was intense, violent and a real page- turner! Recommended! ??
Next up: Debut novel The Step Down by Mark Ratcliffe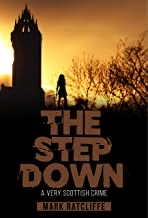 Set in Stirling, I could easily picture the landscape as the story unfolded. This novel had some deliciously dark humour combined with an edginess that made for a fantastically fast- paced thriller. There was a great dynamic between the well developed cast of characters. Recommended! ??
My next read was Curse of the Clown by Douglas Lindsay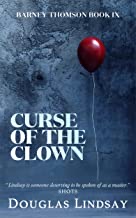 This is Book 9 in the series and although the story itself could be read on its own, I did feel like I was missing out on some backstory so would suggest the reader may want to start at the beginning of the series or at least a few books before. I laughed a lot reading this – the humour was on point! A dark, sinister and clever #whodunnit – the story and characters had me invested! Recommended! ??
My final read was The Art of Dying by Ambrose Parry

This is the second book in the #WayOfAllFlesh series. I'm becoming a fan of historical crime novels and Ambrose Parry may be the reason for that! Set in the Victorian times a veil of menace shrouds the reader and I just found myself immersed in the story – unable to put this book down. I loved the medical aspect, the Edinburgh setting and the mystery held my attention fully. I was lucky enough to read the first book in this series, but think this one easily stands on its own. Recommended! ??