A catastrophic attack. A country in chaos. A race to prevent war.
British M16 agent, and former SAS trooper, Jack Tate is trying to escape his past when he witnesses a terrorist attack of unthinkable scale. An electro-magnetic pulse knocks out the US power grid, killing anything with a computer processor, throwing the whole country into chaos.
Under the cover of the blackout, a clandestine operation aims to assassinate prominent public figures on US soil. Looting and violence spreads across the country. And Jack Tate's past comes back to haunt him. As the only intelligence operative on the ground, he is hurled into a mission that will put him – and the people he loves – in immediate danger.
With the fate of the United States on the line, only he can prevent the horror of a new world war.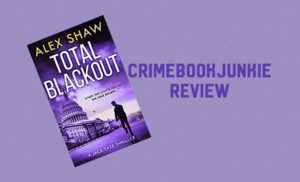 Set in Camden, Maine (USA) the reader is thrown into an explosive storyline where power, payback, fear, control, and a search for the truth dominate the pages. It's a race against time, and holy bejeesus peeps – you will tear through the pages to find out what's happening!
A brutal, edgy, hard-hitting and action packed read. Strap yourself in folks as #JackTate is here and he's going to take you on one hell of a nail-biting ride!
The opening of this novel intrigued me instantly – so many questions, I needed the answers stat! The storyline fascinated me – action thrillers, for me, need to balance the chaos with good characters, a compulsive storyline, a twist or two (though not necessary) and a sense of place. I want to roll with the punches, race to save the day and come out victorious so I can fist bump my 'partner' at the end and then crack open that celebratory tipple of choice. The author ticked all these boxes and more for me!
I loved the setting and without being overly descriptive, the author sets each scene perfectly putting me right in the moment. Character-wise we are given a varied cast – I love a big cast of characters – each add to the story by throwing the reader off track in all the right places. Let's talk about Jack though…oh yes! Former SAS, now MI6 poor Jack is on holiday when all hell breaks loose. He's decisive, clever and I suspect he is quite the looker (he is in my mind any way!) You get the impression that he thrives on adrenaline and if I was ever stuck in a situation where my life is on the line, I'd want him to have my six!
So would I reccomend this read? You bet your sweet ass I would! 
Total Blackout is an absolutely
?
explosive
? 
read! I loved it! Each chapter had me holding my breath, the action was pulse pounding and authentic. The storyline was gripping. The book itself is a #total winner in my eyes and I'm hooked on #Tate – more please!