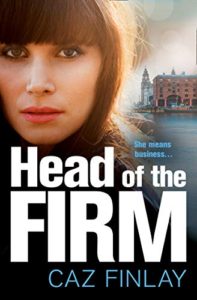 A family at war…
Happily married and with two small children, Grace has stepped away from the murky underworld that has shaped so much of her life.  Now Grace is leaving the hard work to the boys – her son Jake Conlon and the notorious Carter twins, Paul and Connor.
But Grace can sense danger better than anyone and trouble is heading their way….
She'll stop at nothing to protect those she loves, even if it means an all-out gang war on the streets of Liverpool.  But is this one fight Grace can't win?

?? Happy Publication Day! ??
Set in Liverpool, the reader is faced with fear, secrets, control, revenge but family is the real core from where everything else revolves.
This series is a firm favourite of mine and bloody hell, the author really throws the gauntlets down in Head of the Firm! An explosive start left my heart racing and instantly I needed answers – so much so, I put everything I had planned for the day and immersed myself in this gritty, gangland read. An incredible storyline – something is happening in the Liverpool underworld and it's going to shake up everything for…well, you'll see when you read it. There's a great narrative, fantastic characters, a strong and relentless storyline – I can't fault one thing about this book.
The characters are what brings the awesome storylines to life and I adore Grace Carter. She has a lot on her plate and actions taken which have devastating consequences keeps her on her toes. Her husband, Michael is another fictional crush of mine – he can be brutal one minute (to his enemies) and a doting dad/loving father the next. And I can't leave out Jake Conlon or the twins – Paul and Connor Carter – holy sh*tballs there is just a whole tangled web of chaos happening with this trio. All I can say is WTAF!! The author completely blew my mind!
Would I recommend this read! You bet your ass I would! The best in the series so far! Fasten your seatbelts readers as you are in for one hell of a ride! Head of the Firm is fierce, gritty and oh-so-intense – Caz Finlay has delivered another knockout read and I am so glad the next book is out in December as I need more Grace in 2020! Highly recommended!