Happy Publication Day to Rosie Walker and Secrets of a Serial Killer
??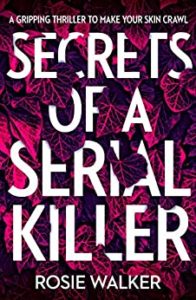 There it is: FEAR. It's crawling all over her face and in her eyes, like a swarm of insects, and it's all because of HIM.
A serial killer has been terrorising Lancaster for decades, longer than should ever have been possible. The police are baffled, eluded at every turn by the killer whose victims span generations. Speculation is rife among the true crime forums; is someone passing on their gruesome trade?
Every local mother's worst nightmare has become Helen Summerton's reality; he's taken her daughter, Zoe. As the clock runs down so do her chances of survival. Can Helen unearth the secrets of the killer before it's too late?
A gripping serial killer thriller that you won't be able to put down. Perfect for fans of The Whisper Man, What You Did and Don't Even Breathe.

? Set in Lancaster – welcome to Lune Asylum… where the reader will face fear, loss, manipulation, narcissism, control, relationships, destruction, deviance and a search for the truth… prepare yourselves…WOW! WOW! WOW!
The opening scene was intriguing as the reader meets one of the main characters at the abandoned asylum. I found the storyline to be intense and unique – it's claustrophobic, chilling and had a perfectly paced build up of suspense. So many questions raced through my mind as the story unfolded and as it was told from multiple POV's, you get a rounded insight. What I also enjoyed was how well the author jumped from adult to youth in the narrative – it was believable and again showed a varied perception of the situation the characters found themselves in.
There was such a great dynamic between the characters – the reader feels the fear, anger, mistrust – and we get a glimpse into the killer's mind and background. Another nature vs nurture theme for me – which I love as I find that when this is done well in a story, the reader can feel empathy towards those we probably shouldn't…and the author nailed it!
So would I recommend this read? Abso-friggin-lutely! This debut novel drags you into the depths of depravity – a chilling, blood curdling and atmospheric read that will give you goosebumps galore! And that ending – what the hell?! ? Just wow! ??