Absolutely delighted to be taking part in Cath Staincliffe's QUIET ACTS OF VIOLENCE blog tour today. When I read her bio, I could not believe my eyes – I'm a huge fan of all the series she has been involved in / created and I think I have just added another author to my #authorsImuststalk list!! My bank balance just took a massive nose-dive, but I am sure it will be worth it! I have an awesome guest post that I'm excited to share with you all – but first, let's learn a bit about the author and his book!
About the Author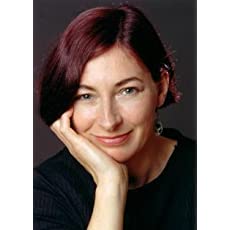 Cath Staincliffe
is an award-winning novelist, radio playwright and creator of ITV's hit series Blue Murder. Cath's books have been shortlisted for the CWA Best First Novel award. She was joint winner of the CWA Short Story Dagger in 2012. 
Letters To My Daughter's Killer
 was selected for the Specsavers Crime Thriller Book Club on ITV3 in 2014.
Cath also writes the Scott & Bailey books based on the popular ITV series. She lives with her family in Manchester.
About the Book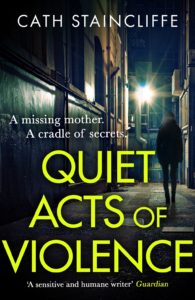 A dead baby. A missing mother. A cradle of secrets.
Has the woman killed her child? Is she at risk to herself? Someone in the neighbourhood of old terraced streets has the answers. But detectives Donna Bell and Jade Bradshaw find lies and obstruction at every turn, in a community living on the edge, ground down by austerity and no hope. A place of broken dreams. Of desperation. And murder.
When a stranger crashes into Jade's life, her past comes hurtling back, threatening to destroy her and the world she has carved out for herself.
Donna struggles to juggle everything: work, marriage, kids. It's a precarious balancing act, and the rug is about to be pulled from under her.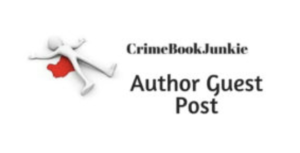 Quiet Acts of Violence sees detective duo DI Donna Bell and DC Jade Bradshaw investigating the death of a newborn baby and launching a hunt for her missing mother.
The impact of austerity on people's lives forms the backdrop to the story. Way back in the 1990s I told my small son we were going to town on the bus. 'Town?' he said. 'Is that where the shops and the homeless people are?' Out of the mouths of babes. But over the last ten years here, as in so many other parts of the country, poverty and homelessness have mushroomed.
Manchester was one place where the DWP piloted Universal Credit which led to severe hardship amongst claimants, many of who were in low paid work. Professor Philip Alston the UN Special Rapporteur on extreme poverty and human rights found in 2018 that a fifth of the UK population were living in poverty. A fifth! 'The costs of austerity have fallen disproportionately upon the poor, women, racial and ethnic minorities, children, single parents, and people with disabilities.' And 'Resources were available to the Treasury at the last budget that could have transformed the situation of millions of people living in poverty, but the political choice was made to fund tax cuts for the wealthy instead.' (And now in the time of coronavirus it's terrible to see how the death rate is double for those living in our most deprived communities and even higher for BAME people.}
At a time when police numbers have been cut and resources shrunk, the police are also having to deal with the fallout from cutbacks to local authority budgets which have decimated services. They spend a lot of time helping vulnerable people who are in mental health crisis, those with drug and alcohol abuse problems and the homeless who are so often victims of crime. In Quiet Acts of Violence, a homeless woman discovers the baby's body. She's a person who has fallen on hard times after being made redundant. Other characters are juggling low paid, zero hours contracts and are at the mercy of a hostile benefits system. As Donna says, 'My generation, you got a job, even a shit job, and you could pay the bills. You might not have anything left over for cars or holidays or new clothes. Haircuts. But you could manage. And there were rules, basic decency. Sick pay and holiday pay and some security.'
In my books I'm drawn towards subjects that disturb and frighten, upset or anger me. Writing provides an outlet for my darkest fears, a way to explore my nightmares, to look at injustices. There's a particular solace in fiction because, unlike in real life, more often than not the truth is revealed, justice is done and in some measure the world is set to rights.
HOW AMAZING DOES THIS BOOK SOUND! I just bought myself a copy because I couldn't resist and now I'll have to sneak it in somewhere soon as I am so intrigued! Check out the rest of the blog tour here: