Not many #noncrime books make their way to my blog, but there are always a few exceptions! Thrilled to have been invited to take part on Kim Nash's Sunshine and Second Chances blog tour today! In case you don't know who Kim Nash is… I'll share a bit about this awesome woman and this book!
About the Author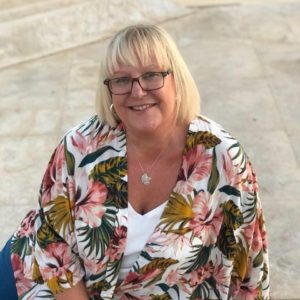 Kim Nash is an author of uplifting, funny, heartwarming, feel-good, romantic fiction.
She lives in Staffordshire with son Ollie and English Setter Roni, is Head of Publicity for Bookouture and is a book blogger at www.kimthebookworm.co.uk.
Kim won the Romantic Novelists Association's Media Star of the Year in 2016, which she still can't quite believe. She is now quite delighted to be a member of the RNA.
When she's not working or writing, Kim can be found walking her dog, reading, standing on the sidelines of a football pitch cheering on Ollie and binge watching box sets on the TV. She's also quite partial to a spa day and a gin and tonic (not at the same time!) Kim also runs a book club in Cannock, Staffs.
Sign up to be the first to hear about new releases. Your e-mail will not be shared with anyone else and you will only contacted about Kim's books.
https://www.kimthebookworm.co.uk/
Amazing Grace was her debut novel with Hera Books and came out in April 2019.
Escape to Giddywell Grange is Kim's second novel and was published in September 2019.
Sunshine and Second Chances is Kim's third novel and will be published on June 4th 2020.
About the Book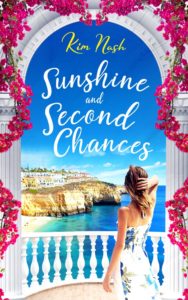 It's never too late to be offered a second chance at life.
Debs is newly single, Fiona is caring for her mum, Samantha is grieving, and Liv has the perfect life – or so she'd like her friends to think…
This year, these four life-long friends are turning fifty, and Liv is determined they will honour their promise to each other – made on a beach at sunrise twenty-nine years before – to celebrate this milestone together.
And what better place than a gorgeous villa where they will be spoiled and enjoy the stunning beaches, picturesque fishing towns and glorious climate of the Algarve?
But time away from home doesn't always make the heart grow fonder. Sometimes it makes the thought of returning to your life too hard to bear. Especially with more than one gorgeous Portuguese man making hearts unexpectedly flutter…
It begins as a reunion in the sunshine, but little do the four friends know what life-changing decisions they'll all be making before their flight home.
A heart-warming, feel-good summer read about friendship, love and second chances.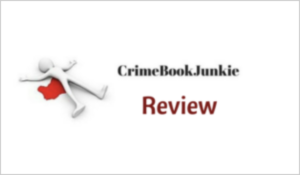 Oh my days! If it wasn't for this damn pandemic, I'd be looking to book my holiday today! That's what this book does to you – it makes you want to call your #tribe and book a fun holiday abroad! Set in the Algarve/Portugal, the reader comes across three main themes (IMO) – loneliness, friendship and change. However we also find acceptance, empowerment, the vibe of living your best life, finding yourself, taking a leap of faith, lots of reflection, regrets, new love, and ultimately happiness.
To say I adored this book would be an understatement – it brought out so many emotions! I loved the opening as I was immediately asking: What's going on here? A call… but what was behind it? So I had no choice but to read one – but make no mistake, I was always going to see what adventure the author had created. The novel is told from multiple POV's and I liked this – as not only did we get some introspection, we also learned how these friends saw each other. The description had me desperate to just escape the gloom of my four walls and sun myself in Portugal. The storyline had me nodding my head – but I also think that you don't have to be nearing the #Big50 to enjoy this book as the characters and their feelings were relatable – for any age. Sadly, we don't easily grow out of those things that weigh heavy on us – we just learn to adapt and love/accept ourselves until one day it might hit us and BOOM – it's time to start living your best life!
I just adore the characters that Kim creates – I have to admit, I couldn't help but see a bit of Kim in some of these awesome women – from sayings, behaviour and outlook – but a dash of Kim is what brought out the magic in these women! Olivia is rich financially but feels 'poor' in other areas of her life – her husband and children take her for granted, she's fed up and I think a little bit lonely as she has nothing for herself. Samantha is a widow, has a grown up child and feels ignored, alone and unappreciated. I really felt for her. Debs made me laugh and I could TOTALLY relate to her: an emotional eater (*waves*), her husband left her for a younger/fitter woman…her neighbour/friend! OMG – uses alcohol as a crutch but then when she meets someone abroad, she realises that life is too short to not follow her dreams. I could easily relate to her insecurities, never feeling good enough, comparing herself instead of appreciating her qualities. So emotive – Nailed it, Kim! And then there's Fiona – she is a carer for her mother and doesn't really have a life of her own. Lonely, confused and comes to finally realise something that her friends have known all along. Of course there are also some wonderful male characters – some with their own struggles (so well written!) and some looking for love. What was also fab were the few nods to some familiar characters from previous novels – but you don't have to have read those – it was just a mention to show they all came from the same place. I just adored them all!
So would I recommend this read? Holy #secondchances Batman – I most certainly do! An uplifting, inspiring read about living your best life, accepting yourself, women empowering women, friendship and finding your own happily-ever-after! Can't wait to see what Kim has next for us!
Follow the tour and see what everyone else thinks: