Absolutely THRILLED to be taking part in Zoe Sharp's BONES IN THE RIVER blog tour today! My thanks to the fabulous Ayo Onatade for the invite and details and to the author for an ARC. Let's find out a bit more about the author and this book before I share my thoughts…
About the Author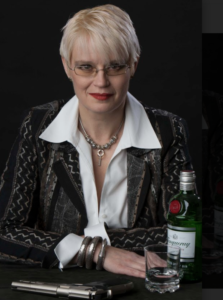 Zoë Sharp opted out of mainstream education at the age of twelve and wrote her first novel at fifteen. She began her crime thriller series featuring former Special Forces trainee turned bodyguard, Charlotte 'Charlie' Fox, after receiving death-threats in the course of her work as a photojournalist. As well as the Charlie Fox books, she writes the Lakes crime thriller series, featuring CSI Grace McColl and Detective Nick Weston, as well as standalones, short stories, and collaborations with espionage thriller author, John Lawton. Her work has won or been nominated for awards on both sides of the Atlantic, been used in school textbooks, inspired an original song and music video, and been optioned for TV and film. When not in lockdown in the wilds of Derbyshire, she can be found improvising self-defence weapons out of ordinary household objects, international pet-sitting, or crewing yachts in the Mediterranean. (It's a tough job, but somebody's got to do it.) Zoë is always happy to hear from readers, reader groups, libraries or bookstores. You can contact her at Zoe@ZoeSharp.com.
Links: 
About the Book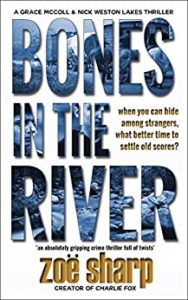 Driving on a country road late at night,
you hit a child.
There are no witnesses.
You have everything to lose.
What do you do?
The traditional Appleby Horse Fair hosts the largest gathering of Gypsies and Travellers in Europe.
The sudden influx of more than 40,000 visitors into the small Lakeland town has always caused its share of problems, with strained relations between off-comers and locals.
But it's also known as a good time to settle old scores.
This year, the Fair brings with it with the discovery of two bodies near the 
River

 Eden—one very recent and another a long time buried.
As CSI Grace McColl and Detective Nick Weston search for answers, old secrets are revealed, old wounds are reopened, and tensions threaten to erupt into violence.
While someone much closer to home is trying to get away with murder…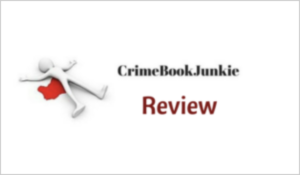 Set in Cumbria / Kirkby Stephen / Appleby the reader is immersed in a novel which looks at the travelling community; discrimination; blame; fear; family; loyalty; grief; secrets; consequences; mistrust; corruption; loss; deception and a search for the truth/justice.
Zoe Sharp is one of my favourite authors because no matter what, she delivers a story that instantly has you on the edge of your seat. What an opening! My eyes widened as I read the final sentence and that was it – HOOKED! What I loved about this book was the puzzle that keeps you guessing in relation to the secondary thread whilst the main storyline has you screaming at the characters as they unravel a horrible crime – you see, the reader knows early on who the police and CSI are looking for – and you absolutely won't believe it! So it's not the WHO it is the HOW the outcome will be revealed that will have you racing through the pages! Within the pages, there is great description – you are there in the moment – and it's hard not to imagine the beauty of the setting balanced against the horror of the crime… There is an authenticity to the novel as well, it was clear that Zoe Sharp did her research and I also enjoyed the #kickass moments – some that might make even Charlie Fox proud!
When I read the first book: DANCING ON THE GRAVE I wanted more – I loved DC Nick Weston and CSI Grace mcColl so was thrilled to hear that Zoe took on board her readers *ahem* demands and followed up with this book! But readers – both are fabulous stand-alone stories so you can read them on their own – but given we learn a little bit about each of the main players in the first book, you may as well read it – it's brilliant! DC Nick Weston is still trying to prove himself but we learn a lot more about him and I have to say, I love him even more. Same applies to Grace McColl – she's determined and not afraid to follow her gut but the insight we receive in Bones in the River about Grace goes a long way to explain or hint at why she is this way. I also like the almost uncertainty that hovers over the relationship (personal and professional) between Grace and Nick. And Zoe Sharp can write a baddie well – but in this novel, there are a few who might surprise you when all is revealed and you may even feel sorry for some…
So would I recommend this read? That would be a hell-to-the-yeah I would! Another cleverly constructed and riveting read from the oh-so-talented, Zoe Sharp! Bones in the River delivers everything I look for in a crime thriller: relatable characters, a compelling and believable plot and a pace that is sharp, fast and addictive. Highly recommended!
Don't just take my word for it though, see what everyone else thinks by following the tour here: