Delighted to be taking part in Tony Bassett's THE LAZARUS CHARTER blog tour today. Thanks to Rachel's Random Resources for the invite. I have a fabulous guest post to share with you all. First though, let's find out a bit more about the author and this book!
About the Author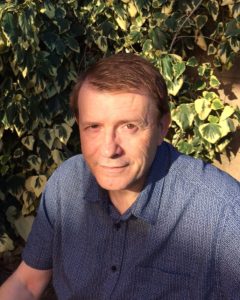 Tony Bassett first developed a love of writing at the age of nine when he and a friend produced a magazine called the Globe at their junior school in Sevenoaks, Kent. At Hull University, he was named student journalist of the year in 1971 in a competition run by Time-Life magazine and went onto become a Fleet Street journalist, mainly working for the Sunday People.
His first book, the crime novel Smile Of The Stowaway, was published in December 2018. It concerned a Kent couple who harboured a stowaway and then battled to clear his name when he was charged with murder.
His second, The Lazarus Charter, was released in March 2020. It is a spy thriller concerning foreign agents operating in the UK. The book has kindly been endorsed by Marina Litvinenko, widow of the murdered Russian dissident Alexander Litvinenko, and by Stan and Caroline Sturgess, parents of the innocent mother-of-three poisoned with novichok in Salisbury in 2018.
Tony, who has written four other novels which are as yet unpublished, has five grown-up children. He is a Life Member of the National Union of Journalists. He lives in South-East London with his partner Lin.
About the Book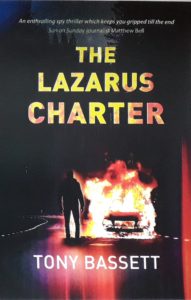 Bob Shaw is baffled to see a man in a brown coat at a bustling Underground station. Surely it can't be his friend, the scientist Professor Morley? Morley perished weeks before in a blazing car. Is the man an impostor or did his friend fake his death?
This fascinating and ingenious thriller tells of Bob's battle to find out the truth, helped by his wife Anne. They are confronted by ruthless enemies and forced to flee their home in this fast-paced spy thriller from the author of 'Smile of the Stowaway'.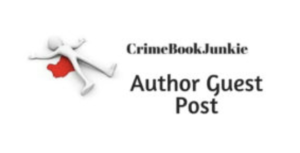 The Lazarus Charter is best described as a spy thriller.  The main characters, Bob and Anne Shaw, find out more than is good for them as they probe the activities of some foreign intelligence agents.  As a result, their lives are put at risk and they become the hunted – forced to move from their home and to keep looking over their shoulders.
     Yet I like to think it is rather more than a spy thriller.  Anne, fresh from her success in solving the Lucas Sharp murder in the previous book, Smile Of The Stowaway, once again shows off her detective skills to great effect.  She goes to considerable lengths to discover exactly how their friend Professor Gus Morley was able to fake his own death with the help of MI5.  Her inquiries take her – along with her often reluctant husband – to Redhill in Surrey; Westerham in Kent; and South Queensferry in Scotland. She follows every clue and every hint of a clue until she has forged a cast-iron case.
     The main inspiration for writing The Lazarus Charter came to me in February 2019.  I was waiting on a London Underground platform when a train came in.  One of the passengers stepping out slightly resembled a friend of mine. It would have been an amazing coincidence if it had been my friend, I thought, and, of course, we would have stopped and had a chat.
     But then I wondered what would happen if someone spotted a friend on a train who couldn't possibly be there — since they were no longer alive. Someone whose funeral they'd attended.
    This became the starting point for my novel.  In my mind, teacher Bob Shaw became the man standing on the Underground platform and his close friend Professor Gus Morley became the man on the train.
     I went home and the next day, as soon as I started writing, the rest of the plot simply fell into place.  Three months later, in May of last year, the first draft was completed.
     The main topic of the novel concerns the growing dangers posed in this country by foreign agents who seem to believe they can act without regard for the law.
     Like so many people, I have been outraged at the way these agents have been free to smuggle deadly, unstable poisons into Britain and then use them to eliminate the lives of their enemies.
     For these reasons, once I had completed the manuscript, I decided I wanted to dedicate the book to the two people who, it seemed to me, had suffered the most at the hands of foreign agents.
      I first approached the parents of poisoning victim Dawn Sturgess, the 44-year-old mother of three who died on July 8, 2018 after being admitted to Salisbury District Hospital.  Stan and Caroline Sturgess were kind enough to let me dedicate The Lazarus Charter to their beloved daughter.
     The chain of events that led to Dawn's death began when former Russian spy Sergei Skripal and his daughter Yulia collapsed at their Salisbury home on March 4, 2018.  It was discovered they had been poisoned with Novichok. Sixteen weeks later, on June 30, Dawn and her boyfriend Charlie Rowley fell ill at Charlie's Amesbury home, eleven miles from Salisbury. Tests showed they had also been poisoned with the nerve agent.  Charlie revealed it had been inside a perfume bottle which Dawn had sprayed on her skin. He said he had found it and given it to her as a gift.
     But I also wanted to remember with the book the tragic death of Alexander Litvinenko.  Alexander died in London, aged 44,  in November 2006.  The former Russian spy was poisoned with a cup of tea in the Millennium Hotel in London's Grosvenor Square.  Working with Scotland Yard detectives, as he lay dying, he traced the poison that killed him, polonium, to a former comrade in the Russian secret service.
     His widow Marina has very kindly agreed, like the Sturgess family, to let me dedicate the book to her murdered husband.
Thanks so much for this interesting guest post, Tony! Readers – follow the rest of the tour here: