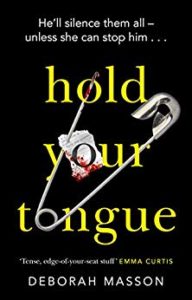 In the run up to Christmas, a serial killer stalks the streets of Aberdeen . . .
On Detective Eve Hunter's first Monday back at work following enforced leave, she is called to the scene of a gruesome crime. A young woman's body has been discovered in a hotel room, her face mutilated and her tongue cut out. A newspaper headline about the victim's burgeoning modeling career is pinned to the body.
Hunter and her team spend the week chasing leads, until the following Tuesday, another body is discovered in similar circumstances. Again, a newspaper headline about the victim is found on the scene.
When a breakthrough with the newspaper clippings leads them to a clue about the killer's pattern, they realize the countdown is on until the next victim is found. Battling against a team who has lost respect for her and her own personal demons, Hunter must put herself inside the mind of a depraved killer if she is to prevent another terrible death . . .
Introducing DI Eve Hunter, HOLD YOUR TONGUE is your new obsession.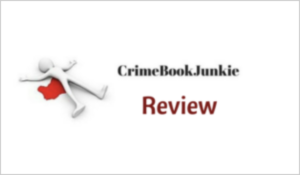 Set in Aberdeen the reader is dropped in a dark world filled with shame, guilt, fear, pain, revenge, relationships, secrets, lies, mistrust and a search for the truth.
WOW! WOW! WOW! The opening scene was intense and vivid – once read, I was HOOKED! This was one of those uncomfortable storylines – lip-biting, at times it made me cringe but absolutely addictive – leaving you no choice but to keep turning the pages. I shifted in my seat a few times reading this #badboy but man, was it good! The plot was cleverly drawn out, pacy and filled with suspense. The characters were intriguing and the description was incredibly vivid – exactly how I love my crime fiction. I was very impressed and can say that this did not read like a debut – everything was laid out brilliantly and the clues dropped in so I was questioning my own suspicions. SUPERB!
I really liked DI Eve Hunter – after returning to work following a mentally and physically challenging case, she's not received well by all. I loved the conflict within the team and thought the narrative showed the difficulties faced when trust is questioned. At times, it was quite emotive and then you find out about her childhood and OMG!! I wasn't expecting that – great backstory. It kind of reminded me of a character I love in a long-standing tv show (Law & Order SVU) so I liked Eve more and more!
I love Scotland and so the setting really drew me to this book too. The author really made me feel like I was there, in the story, with the team and looking over the shoulder of the killer as the police raced against time to catch the person responsible. And just when I thought I had figured the whole thing out – BOOM! – I had missed a few things and the author had placed some very cheeky (but brilliant) red herrings to throw me off course!
Would I recommend this read? Oh- my- days! Ab-so-friggin-lutely I would! If you like chilling, clever, page-turning reads – this debut is for you! Grab your copy today!