My publisher,

One More Chapter

has secured some awesome #KindleMonthlyDeals across Amazon UK and US this month (April 2020) and I thought I'd share them with y'all so you can fill up your kindles and get reading! Of course, I'm delighted that DEAD WRONG is featured for April in the US and hope that readers across the pond will enjoy it. You can check it out here: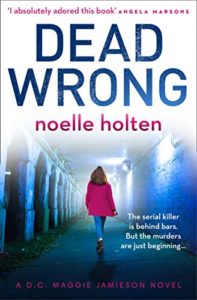 The serial killer is behind bars. But the murders are just beginning…
DC Maggie Jamieson's past comes back to haunt her in this dark and gripping serial killer thriller.
Three missing women running out of time…They were abducted years ago. Notorious serial killer Bill Raven admitted to killing them and was sentenced to life.
The case was closed – at least DC Maggie Jamieson thought it was…But now one of them has been found, dismembered and dumped in a bin bag in town.
Forensics reveal that she died just two days ago, when Raven was behind bars, so Maggie has a second killer to find. Because even if the other missing women are still alive, one thing's for certain: they don't have long left to live…
Other deals worth checking out are listed below. Just click on the link and check them out!
UK KINDLE MONTHLY DEALS
The Murder House Michael Wood
Mrs Boots Deborah Carr
Clover Cottage Christie Barlow
The One That Got Away LA Detwiler
The Big Five-O Jane Wenham-Jones
The Man I Fell In Love With Kate Field
US KINDLE MONTHLY DEALS
St Paul's Labyrinth Jeroen Windmeijer
The New Guy by Kathryn Freeman
The One Night Stand Carissa Lynch
From Italy With Love Jules Wake
The Poppy Field Deborah Carr
The Brothers of Auschwitz Malka Adler
Dead Wrong Noelle Holten
After You Fell J.S. Lark
Poppy's Place in the Sun Lorraine Wilson