Oh my days! I'm absolutely THRILLED to be taking part in Rachel Abbott's Right Behind You blog tour! I was only supposed to be hosting a guest post but I am a huge fan of the Tom Douglas series, I simply couldn't resist! Huge thanks to Anne Cater of #RandomThingsTours for the invite and ARC. A little about the author and this book before I share the fabulous guest post and my review!
About the Author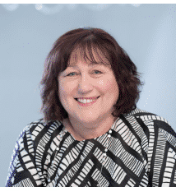 Rachel Abbott is the bestselling author of the Tom Douglas series of books, and more recently the Stephanie King series, which together have sold over 4 million copies and have been translated into over 20 languages.
Right Behind You is the ninth Tom Douglas book, and in 2018 Abbott also released her first novel with Headline under the Wildfire imprint, which was listed as one of The Times best crime novels of the year. Born and raised in Manchester, Abbott founded her own interactive media company in the 1980s before retiring in 2005. She then moved to Italy where she wrote her first novel, Only the Innocent, which she went on to publish via Kindle Direct Publishing, topping their chart for 4 weeks. A true self-publishing pioneer, Abbott now splits her time between Alderney in the Channel Islands and Italy.
About the Book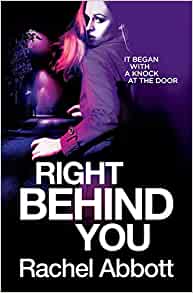 Jo Palmer's peaceful and happy life is about to end.
Ash – the man she loves – will be arrested by the police.
Millie – her precious daughter – will be taken from her.
She will lose her friends.
She will doubt her sanity.
Someone is stealing everything Jo loves, and will stop at nothing.
But right now, Jo is laughing in her kitchen, eating dinner with her family, suspecting nothing.
It's raining outside.
There's a knock at the door. They are here.
A DCI Tom Douglas thriller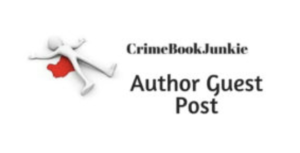 Creating Credible Characters by Rachel Abbott 
We all know that a good thriller has to have a strong plot – something that gets the pulse racing. But somehow even the strongest of storylines don't work for me unless I care about the characters. I have to feel that they matter, and I almost want to shout at them: "Don't go that way! Turn round! Go back!"
So when it comes to writing one of my thrillers, I start with the plot premise – which might be as simple as a single line of an idea. In the case of Right Behind You, it was: what would happen if there was a knock at the door one night and it was the police, come to arrest your partner. And what if… I can't say any more without giving the whole story away!
Then I start to think about the characters. Who is this happening to, and why do I care? This matters so much, because once the story starts, they are the ones who will be making the decisions.
In the diagram below, you can see how I worked on the character of Ash (Ashraf), my protagonist's partner in Right Behind You. I wanted to know all his good points, his bad points, motivations, threats, insecurities. In this way, I could create a fully rounded figure.

It's not just about their character, though. As some wise person once said to me: "Your characters have to have a life off the page, as well as on the page." In other words, for each of my characters I have to understand a little of their background and their daily life. How were they brought up? Do they have siblings? What are their parents like? Do they enjoy their job (and what is their job)? What is their favourite drink? Food? Music?
Obviously, this is only relevant for major characters – but it does mean that when I write about them and even think about them, they are very real to me.
And I need photos! I scour images on the internet to find someone who looks JUST like the character in my head and save that image in the character file. I list colour of eyes, hair, skin; I know their birthdays, when their children were born – I know them better than my own best friend.
And why is this important? At a basic level, because that way my character's age, eye colour, ethnicity, can't change as the book progresses. I can't make mistakes, because I know them too well.
At a more subtle level, I hope it is so that my readers know them too and feel for them when things – almost inevitably – go wrong.
Thank you so much for this, Rachel! I absolutely understand this both from a writer and a reader perspective. As I reader, I often picture characters and absorb their traits as I am turning the pages. I'm always interested in how people come up with their characters as I find each author I have spoken to has a different way and method that is important to them. 
Now for my review!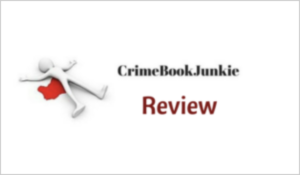 Set in Manchester the reader is immersed in a world where suspicions, betrayal, fear, secrets, jealousy, manipulation, control and a search for the truth is woven throughout the pages!
This book had an incredible opening few chapters! Told from multiple POV's – when the realisation of what is happening hit me, I was floored! A brilliant build up of tension and suspense had me wonder what the hell was going on and even when I thought I was clever and had it all sussed…I was wrong! oh-so-wrong *slaps forehead*
I liked the level of unreliability within some of the narratives – who can I trust? It had me bouncing between liking and then loathing some characters while also screaming WHY at the pages. SUPERB! When a book brings out those emotions in a reader, you know you are on to a winner!
A fabulous array of characters really had me hooked. Jo (Joanna) Palmer was amazing – I really felt for her most of the time, she was believable and relatable and her actions were extraordinary at times – exactly what I would believe a mother would do when faced with a missing child.
DCI Tom Douglas is one of my favourite fictional detectives and he really shone in this novel, whilst  also letting his colleagues, particularly Becky, show her skils as well. I loved how everything in this case was pieced together and I also really enjoyed the sub-plot and how the author interlinked these. i just want to talk about everything and everyone, but in my excitement – you know that buzz you get when you read something you love- I'm afraid I'd end up giving something away!
Would I recommend this read? Oh my days – you bet your sweet arse I would! Rachel Abbott is skilled in presenting the reader with a dark, compelling story, jaw-dropping twists and a series that has you always wanting more! When I think of authors who are like my #bookdealers – with their addictive psychological thrillers, Rachel Abbott always delivers the perfect hit! Highly recommended – I can't wait to see what is next!