Thrilled to be one of the bloggers to close down Michael Paul Michaud's THE INTROVERT CONFOUNDS INNOCENCE blog tour today! My thanks to Sarah from Book on the Bright Side Publicity for the invite and to the publisher & author for the ARC. I was also pleasantly surprised to find a wonderful quote from my review of The Introvert in the novel. Thank you so much!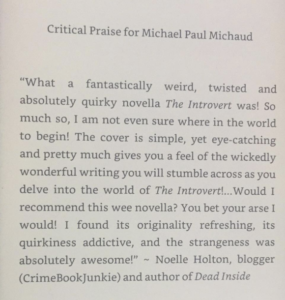 About the Author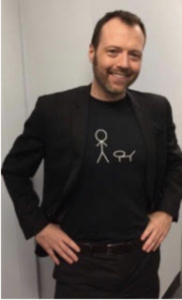 I am an American-Canadian citizen, a criminal prosecutor, and author of BILLY TABBS (& THE GLORIOUS DARROW) (bitingduckpress) and THE INTROVERT series (Black Opal Books). I have a B.A. in English from McMaster University, an Honors B.A. in Political Science (
summa cum laude
) from McMaster University, a J.D. from The University of Western Ontario (with an international exchange completed at Washington & Lee). I have won awards for both my community service and my work as a criminal prosecutor. I am a member of Crime Writers of Canada and International Thriller Writers. I also strive to maintain a strong social media author presence, including at 

facebook.com/michaelpaulmichaud

, and have made regular appearances on SiriusXM's Canada Talks. I am an unabashed and unapologetic zealot of Twin Peaks. Literary influences are primarily Orwell, Dickens, Vonnegut, Dostoevsky.
I was inspired to write The Introvert after reading Crime and Punishment (Dostoevsky) and The Stranger (Camus). It has been likened to Dexter and American Psycho meeting Office Space and The Curious Incident of the Dog in the Nighttime. I also consider it the most unorthodox of animals rights books. Every dog lover should read them.
Twitter
: @MichaelPMichaud
Instagram
: MichaelPMichaud
About the Book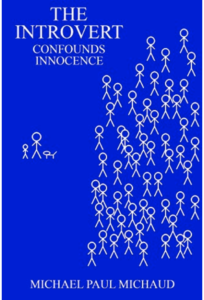 THE INTROVERT CONFOUNDS INNOCENCE continues the story of the eponymous anti-hero introduced in THE INTROVERT.
With his life disrupted by an unscrupulous work colleague and a bully at his son Toby's school, things go from bad to worse when his neighbor's abusive boyfriend goes missing, plunging the introvert into the center of a murder investigation.
Increasingly hounded by a meddlesome detective, and with his thoughts continually urging him to make people "red and open" and to "achieve it" with his girlfriend Donna, what follows is a sometimes brutal, oftentimes hilarious, and absurdist account of the life of one very anti-social and unexpected anti-hero.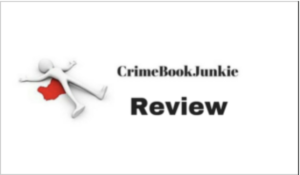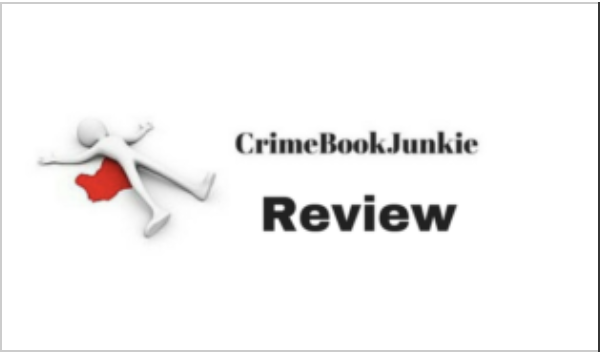 This novella mainly takes place in an office or the home of 'The Introvert' – various themes run throughout the novel and include: Domestic abuse; empathy;  impulse; control; differences; ignorance; insight; misunderstanding; bullying; doing what's wrong for the right reasons; relationships and rather that a search FOR the truth, it is a search to HIDE the truth.
Well hack my legs off and call me shorty – what a read! With some of the features of a domestic noir novel, the author has once again created a weirdly wonderful array of craziness where no matter how wrong, you root for the anti-hero as he tries understand the world around him to cover his tracks when he can't. What I love about this series is how easy it is to get caught up in the peculiar world that The Introvert inhabits. the author uses vulnerability – an abused neighbour and the introvert's son being bullied as a backdrop to get into the mind of this unbelievable character. Told in first person POV it is filled with dark humour, grisly accounts and some quite thought-provoking moments. From the ending, it is clear that this will not be the last time we see the introvert – and for that I am glad. If I had one niggle, it would be how everything was wrapped up – I felt like I needed more – but hopefully that will all come in the next book!
Character wise I have to start with The Introvert himself – always questioning, completely off-the-wall unbelievably…quirky – he takes things so literally, I just laughed and cringed as I followed him on the latest journey. I love his social awkwardness but also how he has grown somewhat since starting a family – He has an odd sense of self understanding and there is a certain level of self control this time around … but then things happen and he just acts on impulse. An incredibly interesting character!
I have to admit, I didn't gel with the police detective in the novel. He was supposed to be British, but his repetitive phrases just got under my skin. This is not a criticism as I believe this is what the author wanted to achieve – for me, I was amazed that The Introvert didn't make him 'red and open' as I would have! HA! The whole cast of characters added such a great dimension, I look forward to meeting some of them again.
Would I recommend this read? Oh hell yeah, I would! Insightful, addictive and incredibly unconventional – this brilliant novel will keep you turning the pages! Check out the rest of the tour to see what everyone else thought here: