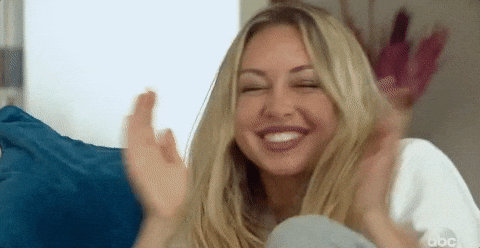 OMG eeeeeeek!! I have been DYING…D-Y-I-N-G…to share my review for the ever-so-awesome Paul Grzegorzek's Closer Than Blood and today…my friends…is THAT DAY!! A massive thanks to the author, Netgalley via the publisher One More Chapter and the fabulous Sarah Hardy of Book on the Bright Side Publicity. As per usual – let's find out a bit more about the author and this book…
About the Author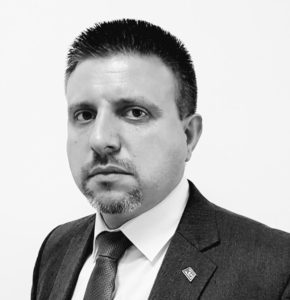 Paul Grzegorzek was born in 1976 and despite the name is Sussex born and (mostly) bred.
Paul writes dark, gritty crime novels inspired by his time as a police officer in his home town of Brighton, giving them a realistic feel that can only come from years of experience pounding the streets.  During his police career, he worked in a number of specialist units, including as a riot medic, method of entry specialist and intelligence officer, where he met and worked with many of the people who became characters in his books.
He has also worked in the private security and defence industries, as well as consulting for various agencies, giving him a unique insight into crime at both street and higher levels.
Born in Shoreham-By-Sea, within spitting distance of Brighton, Paul now lives in Hove with his wife and two sons.
Social media links:
About the Book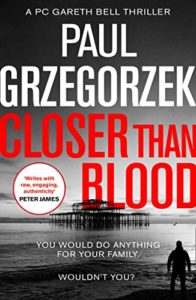 You would do anything for your family. Wouldn't you?
A gripping crime thriller, perfect for fans of Peter James.
'Writes with raw, engaging, authenticity' Peter James
The real nightmare begins when the missing person returns…
PC Gareth Bell is about to arrest a cocaine dealer on Brighton Marina, when he makes a shocking discovery that turns his world upside down: the dealer is his long-lost brother, Jake, someone he thought had died years ago.
But their reunion is short lived. For Jake is on the run from a cold-blooded killer, whose network reaches all the way into the police force itself. Now that his brother's life is on the line, Bell has only two choices. Family, or duty?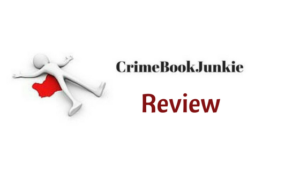 Set in Brighton, the reader is taken on a thrilling journey filled with intrigue, guilt, remorse, the past, drugs, organised crime, grief, anger, family/relationships, retribution and a search for the truth.
?Hot damn!? It's paperback publication day for this gritty, authentic crime thriller and I couldn't be more excited to share my review! The opening line…the opening chapter – OMFG I was hooked! This author has a unique writing style – he brings his past experience as a police officer to the forefront and what you get is a high action, crime thriller that will leave you gasping as each page turns! This novel is told in first person POV – PC but now DS Gareth Bell is the lead and I have to say, I loved The Follow (read my review HERE) but I friggin loved this book even more! The storyline had me hooked, the narrative was on form and you really get a pure sense of place, like you are there in the action. ?BOOM?- what a read!!
Paul Grzegorzek has a wonderful skill of bringing his characters to life. DS Gareth Bell gets the shock of his life when someone from his past returns…someone he believed to be dead. But that is not all he has to contend with – his father is dying of cancer. What more can be thrown his way!? I have to say, the scenes with his father were REALLY emotive. I found myself quite choked up a few times. This copper is not one to sit back though – oh no, no, no – he LOVES a fight and finds himself in a few situations…some he creates (lol) where those fists come in handy! I really hope there is more of this series – as I will need another fix soon!
Jake – I am not going to say too much about him…just that all is not what it seems. I had mixed feeling about this character but overall, I just felt quite sorry for him.
OMG! OMG! OMG! Coop!!! Now, I have to explain something. The first book I ever read by this author was But For The Grace of God – and anyone who knows me, also knows that I shout out about it whenever I can. The main character – John Cooper is a big fictional crush of mine, and I am not ashamed to say that this was me when he graced the pages…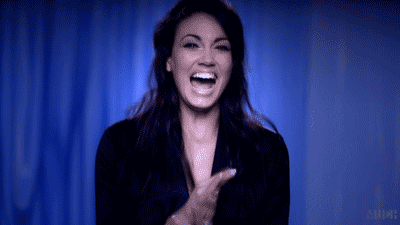 I am not going to go into Coop's (see, it's like I know him – lil nickname, ya know!) backstory and you don't even have to have read the book he features in (But for the sake of all things holy – I URGE you to do so!) Coop is called upon for his skills and knowledge of the drug scene. What happens is truly heart-racing and I am so happy he made an  appearance. (Now I am beginning to worry about myself) – but this just shows what a master the author is at bringing his characters to life!
I just want to shout from the rooftops about this book. Would I recommend it? You bet your sweet arse I would! Harrowing, action-packed and thrilling – Closer Than Blood is an exceptional read! I absolutely DEVOURED it in one sitting and as I said before, I think it was even better than The Follow. Hard-hitting, gritty, and full of emotion – a TOP READ for me! Make sure to add this to your TBR (can be read as a stand alone)
But if you don't want to take my word for it, follow the rest of the tour here: