More exciting news coming your way from Bloody Scotland today! Check out the latest press release here: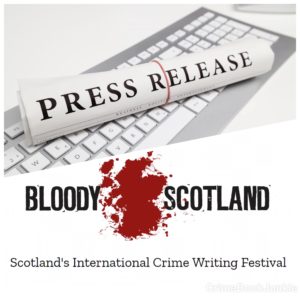 Four of Scotland's bestselling crime writers are pooling their talents to write their first joint short story together, ahead of this month's Bloody Scotland International Crime Writing Festival.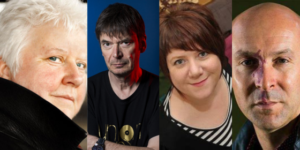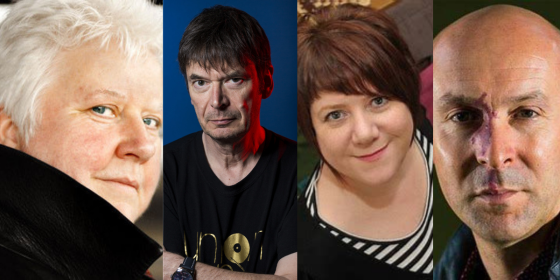 Christopher Brookmyre, Val McDermid, Ian Rankin and Louise Welsh – who between them have sold tens of millions of copies of their books – have joined forces on the gripping new tale as the popular event draws near.
Now in its eighth year, the Stirling-based festival is an international showcase and celebration of crime writing talent which has brought hundreds of writers new and established to the stage before an enthusiastic gathering of crime writing fans.

The unique collaboration is a race to the finish, with the story due to be completed just ahead of its publication exclusively in The Sunday Times next weekend (8th September) – appearing in the print edition in Scotland and in the digital edition for everyone.
It has the working title 'A Deadly Convergence' and is set in the chilling aftermath of a man falling from the battlements of Stirling Castle.
Christopher Brookmyre, whose books include Quite Ugly One Morning, Black Widow and Fallen Angel, starts the tale off before handing over to Val McDermid, often hailed as the modern queen of crime whose Hill/Jordan series was adapted for the successful television drama Wire in the Blood.
The pen is then picked up by Louise Welsh, author of the highly acclaimed Plague Times trilogy, before Rebus-writer Ian Rankin, who has sold more than 20 million books in the UK alone, steps in to crack the case.
Christopher Brookmyre explained:
"Writing is normally a solitary process, but one in which you have complete control. The most exciting thing about this was relinquishing that control and having no notion where a fellow writer might take the story."
Val McDermid, who has led the festival's famous torchlight procession, will miss it this year as she will be in New Zealand but this four into one project helps ensures here presence will still be felt.
"The Bloody Scotland team tried to get rid of me by sending me to New Zealand but my friends rallied round to make sure I'd be there in spirit with this fun collaboration," she said.
Bloody Scotland festival director Bob McDevitt, added:
"I for one am very much looking forward to this exclusive new story from four of Bloody Scotland's most supportive writers. If we counted up all the tickets they have sold between them in the eight years of the festival we could probably fill Stark's Park, Home of Val's beloved Raith Rovers, many times over."
Jason Allardyce, editor of The Sunday Times Scotland, said:
"Having recently had the honour of publishing original work by Alexander McCall Smith, it's truly thrilling to see four of our most distinguished crime writers now coming together for this riveting read – and a joy to work with the Bloody Scotland team as the festival continues to go from strength to strength."
Full details of the programme for Bloody Scotland, from 20-22 September can be found at bloodyscotland.com. The exclusive new short story will be available to read online from 8th September at thetimes.co.uk/magazine/culture

Woohoo!!I for one am very excited to read this – and see how it turns out with four amazing writers putting their heads together to thrill us readers! Remember to keep an eye out on Sept 8th and I hope to see some of you at Bloody Scotland this year. It is one crime festival you DO NOT want to miss!
Happy reading, bookjunkies!