Absolutely THRILLED to be hosting the ever-so-awesome Helen Fitzgerald's WORST CASE SCENARIO blog tour today. Massive thanks to Anne Cater for the invite and to Orenda Books for the ARC – though I went out and bought myself a signed copy too – because…it is just THAT BRIlLIANT! First though, let's find out a bit about the author and this book and then I will tell you what I thought!
About the Author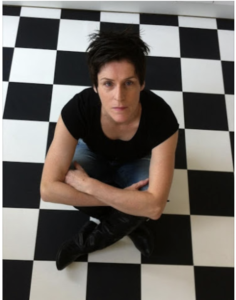 Helen FitzGerald is the bestselling author of ten adult and young adult thrillers, including The Donor (2011) and The Cry (2013), which was longlisted for the Theakstons Old Peculier Crime Novel of the Year, and is now a major drama for BBC1. Helen worked as a criminal justice social worker for over fifteen years. She grew up in Victoria, Australia. She now lives in Glasgow with her husband.
About the Book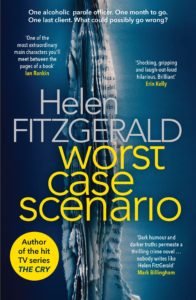 Mary Shields is a moody, acerbic probation offer, dealing with some of Glasgow's worst cases, and her job is on the line. Liam Macdowall was imprisoned for murdering his wife, and he's published a series of letters to the dead woman, in a book that makes him an unlikely hero – and a poster boy for Men's Rights activists.
Liam is released on licence into Mary's care, but things are far from simple. Mary develops a poisonous obsession with Liam and his world, and when her son and Liam's daughter form a relationship, Mary will stop at nothing to impose her own brand of justice … with devastating consequences.
A heart-pounding, relentless and chilling psychological thriller, rich with deliciously dark and unapologetic humour, Worst Case Scenario is also a perceptive, tragic and hugely relevant book by one of the most exciting names in crime fiction.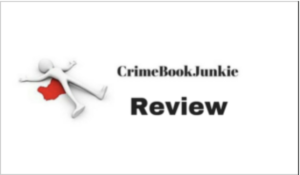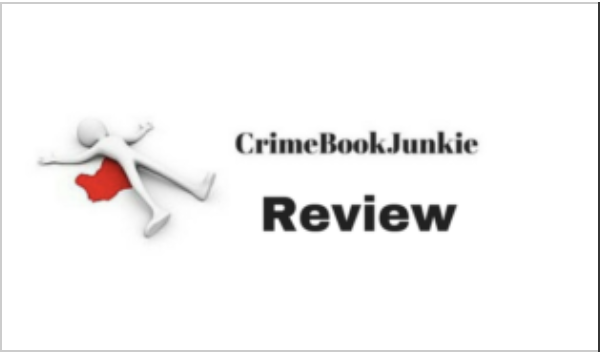 Set in Scotland, Worst Case Scenario introduces the reader to offenders behaviours, risk, how far you would go to protect those you love, protection, fear, anger, manipulation, loss of control, revenge, survival, mental health, stress and the menopause! And what a bloody PHENOMENAL read it is!
One alcoholic parole officer
One month to go
One last client
What could possibly go wrong?
HA!
WOWSERS! Having been a Probation Officer myself for 18 years, this book just took hold of me. But you don't need to have been a PO to get this book or to be going through the menopause – there is so much in it, I think it will appeal to a wide group of readers. Helen Fitzgerald has completely nailed it – authentic, dark humour, addictive and oh-so-relevant. We get up close and personal through Mary and learn what every PO fears – the worst case scenario and what happens when the menopause hits. I think the storyline and narrative are so compelling and given my own experience within the CJS, I just felt completely a part of the story. The author writes in such a riveting way – I completely found this book unputdownable!
When I first finished this book, these are the tweets I posted and it's still relevant as I write this review a few months later:
Holy Friggin Sh*tballs! I just finished

@FitzHelen #WorstCaseScenario

and she bloody nailed it! Dripping with authenticity, full of dark humour and as addictive as the drugs she includes in this book – I read this in one sitting! I almost miss my days as a PO …almost…
You got it all so perfect! I was nodding, laughing, assessing, screaming – OMG sooooo good! And the sickness / flexi time shit.

Soooo true!

Let's face it, every PO has dreamt of pulling a Mary! BRILLIANT!
There's something about Mary…INDEED! Let's chat characters! As an ex-SPO, I could totally relate to this character and found myself going through all the emotions as I remembered my time in probation – fricking brilliant and hugely relatable – what scared me more though…I haven't even gone through the menopause yet – I'm glad I'm no longer in the Probation Service as I would hate to think how I would behave in the same situation! ha ha ha In fact, if all PO's were honest, I think they'd all want to pull a Mary with some of the cases and people they deal with – and Mary perfectly shows what happens when you are overworked, under appreciated and going through things in your personal life that just made her lose the plot – I'm not even sure HRT would have made a difference!
The other character I want to mention is Liam Macdowall. He absolutely enraged me – and the author captured him perfectly on the pages.  Cunning, manipulative with the total creep factor oozing from him. What I enjoyed even more though was how my feelings about him were torn at times too! I mean, he served his time – he does deserve a second chance…right? Or does he?
Although the ending leaves things open, you kind of know that the sh*t is well and truly going to hit the fan but then the author highlight's how much protocols and policy within the Service sometimes takes over the real work and I literally HOWLED and nodded when I read the final pages. STUPENDOUS!!
Would I recommend this book? One hundred million percent I would recommend this read – what an original, funny, emotive, relatable, compelling and page-turner of a read! It definitely makes my #TopRead2019 list – as I still can't forget it.
Still not sure? Check out what everyone else says and follow the tour here: