All the #Eeeeeeeeeeks today on my blog as it's my stop on Mel Sherratt's #epic HUSH HUSH blog tour! It feels like aaaaaaages since I read this book, but the fact that I'm still so excited about it – well that's got to be a good thing! Let's find out a little more about the author and this book before we get to my review!
About the Author

My novels take you to the heart of the crime. I write police procedurals, psychological suspense and crime dramas – fiction with a punch. Shortlisted for the prestigious CWA (Crime Writer's Association) Dagger in Library Award, my inspiration comes from authors such as Martina Cole, Lynda la Plante, Mandasue Heller and Elizabeth Haynes.
Since 2012, I've sold over one million books. All eleven of my crime novels have been bestsellers, each one climbing into the Kindle UK top 10 and I've had several number ones. I've also had numerous Kindle All-star awards, for best read author and best titles.
My latest book, HUSH HUSH is the first in a new series featuring DS Grace Allendale. It's a police procedural which finds Grace returning to her hometown of Stoke-on-Trent and coming face to face with her estranged family during her first murder investigation. It's a story of 'is blood thicker than water' and being stuck between a rock and a hard place. And there's a serial killer on the loose…
I live in Stoke-on-Trent, Staffordshire, with my husband and terrier, Dexter (named after the TV serial killer) and make liberal use of my hometown as a backdrop for some of my books. You can find out more at my website www.melsherratt.co.uk or I'm on Twitter at @writermels
About the Book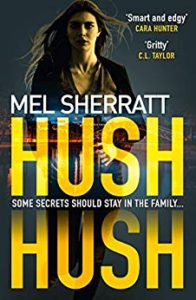 A killer is on the loose, attacking people in places they feel most safe: their workplaces, their homes. It's up to DS Grace Allendale to stop the murders, and prove herself to her new team.
All clues lead to local crime family the Steeles, but that's where things get complicated. Because the Steeles aren't just any family, they're Grace's family. Two brothers and two sisters, connected by the violent father only Grace and her mother escaped.
To catch the killer, Grace will have to choose between her team and her blood. But who do you trust, when both sides are out to get you?
An unforgettable thriller that fans of MARTINA COLE and CARA HUNTER won't be able to put down.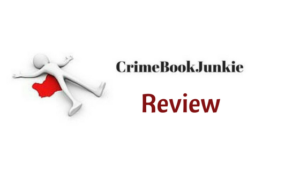 Can I get a #hellyeah! We are back on Stoke-on-Trent where family, organised crime, secrets, corruption, the past, loyalty, exploitation, jealousy, fear, abandonment, anger and a search for the truth fill the pages of this incredible new series!
What a bloody great opening! Full of suspense and a brilliant hook, the reader has no choice but to keep turning the pages as this fantastically gritty story unfolds! I have to say that Mel Sherratt has excelled herself this time – I absolutely love both The Allie Shenton and the Estate series by this author but this…OMG THIS … my new fave for sure! Well developed characters, with just enough ? that you want to know more, a real, edgy storyline that has you ? and it was perfectly paced, giving me just enough time to catch my breath before the next ?BOOM? knocked me off my seat!
DS Grace Allendale is making a fresh start, back in her hometown but doesn't ease into the new team smoothly. I loved the initial conflict at the start – like "Who does she think she is?" because she is replacing our (and I say our as if I am one of the team) beloved Allie Shenton. Grace is a fantastic character and like all of Mel's books, Grace is brought to life so well, I'd almost believe I knew her – like I could walk into the police station and expect her to be there! BRILLIANT – and I can't wait to learn more about her. I'm sure (in fact, I know!) that a few peeps in the criminal justice system have family on the wrong side of the law and this can either make or break you – but Grace won't be broken…at least not in this book!
I simply adored the Steele family too! Yes, they may be the #baddies …but I wonder if some have a redeeming quality that may shine through (more) in future books. There was a charm about them as a whole and each one had a very unsettling side too. Yay! Yay! Yay! So cleverly done…I'm simply desperate for more!
I also love the police team, who I've come across in the previous series, but OMG there was some fabulous conflict and total WTAF-OMFG moments – where's the popcorn! ?
I want to just rave and rave about Hush Hush as I think Mel is onto a real winner with this series and hope that Avon sign her up for a mega contract for this series alone…anything else would be a bonus of course…??? Would I recommend this read? Holy Friggin' Sh*tballs – damn right I would! Gritty, realistic, addictive and relevant – This is a must read for 2018! Grab a copy today, #bookjunkies!
Make sure to follow the rest of the November tour here: