Whoop! Whoop! I'm absolutely over-the-friggin-moon to be taking part in the cover reveal make-over for the fabulous David McCaffrey's HELLBOUND series. I have read and reviewed all three of these books, so I've included a mini review and a link to the original review – that way, you can see why I am so excited.  I absolutely LOVE the new covers and highly recommend the series! First a bit about the man himself and then feast your eyes on the awesome covers – and if the covers alone don't tempt you to buy the books…maybe the price will. Less than £2 each- yes, that's right…grab each one as soon as you can!
About the Author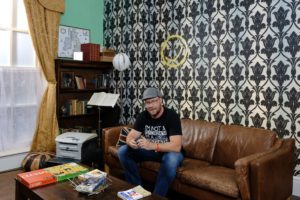 David McCaffrey was born in Middlesbrough, raised in West Sussex and now lives in Redcar. He worked in the NHS for many years, his last position being Lead Nurse in Infection
Prevention and Control at James Cook University Hospital.
He started writing following the birth of his first son and in 2010 was accepted onto the writing coach programme run by Steve Alten, international bestselling author of Meg and The Mayan Prophecy. Hellbound was the result and the rest, as they say, is history (cliche, cliche).
Though psychological thrillers are his raison d'etre, David is also an activist for bullying and harassment in the NHS. His book, 'Do No Harm: Bullying and Harassment in the NHS'
went to Number One in the Nursing and White Collar Crime categories of Amazon Kindle charts in November 2018 and was the Number One bestselling book in the U.S Amazon
Kindle charts for more than three weeks in the Issues, Trends and Roles category. David is a proud supporter and donator to the Ben Cohen StandUp Foundation which tackles
bullying across the board, from schools to the workplace. He had the honour of being invited to speak at the Standup Foundation's Inaugural Conference in November 2018.
Half of all profits from 'Do No Harm' go to the Ben Cohen Foundation.
David lives with his wife Kelly, has a Jakey, a Liam (a.k.a Gruffy) and a Cole (a.k.a Baby Moo Man) They also have an Obi… who's the dog.
He decided to go back and revisit his first three titles in the Hellbound Anthology for many reasons; the main ones being to correct mistakes in there from the first time around, to expand upon the storylines where original ideas were edited out (nothing major, but small sections that he always loved) and to completely redesign the covers to make them look more like the series they were always intended to be.
Whether he has accomplished any of the above, he shall willingly leave up to you, dear readers.
Links:
About the Books – and check out the amazing NEW covers plus a #minireview with links to my full reviews of each book!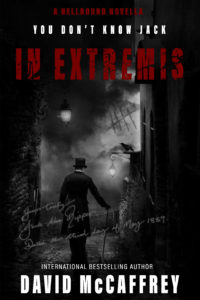 MINI REVIEW: 
 I was immediately taken in, hooked and drowning in this superb story of The Brethren, The Ripper and the beginnings of Obadiah Stark – who, by the way, just may be one of my favourite fictional serial killers next to Hannibal Lecter!
Read my full review

HERE
About the Book:
1888. Whitechapel. Think you know the story? You don't know Jack…
James Maybrick had secured his legacy as the most infamous serial killer of all time…his diary would one day shock the world.
Thomas Quinn wants revenge…his actions will give birth to an organisation of unspeakable power.
Together, they unwittingly set in motion a plan that will one day lead to the serial killer, Obadiah Stark.
Stark became The Tally Man.
They were The Brethren.
Maybrick is known to history by another name…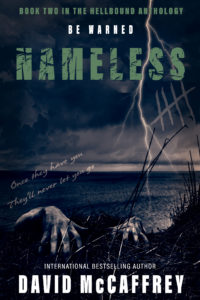 MINI REVIEW:
The story-line was riveting and I really immersed myself into how easily people could be manipulated if the right buttons were pressed.  I loved how references to real-life serial killers were  woven into the narrative, so it almost read as a chilling, true-life account.
Read my full review HERE
About the Book: 
'There is no hunting like the hunting of man, and those who have hunted armed men
long enough and liked it, never care for anything else thereafter.'
Ernest Hemingway
One serial killer terrified the world. Imagine what an army of them could do…
A cult member is arrested at the scene of a brutal murder. She will only speak to former crime reporter, Joe O'Connell.
Joe's obsession with Obadiah Stark a.k.a The Tally Man cost him everything.
He is about to learn that Stark's message did not end with his death.
They believe in what The Tally Man stood for.
They believe in what The Tally Man did.
But he was one, and they are many.
Once they have you, they will never let you go…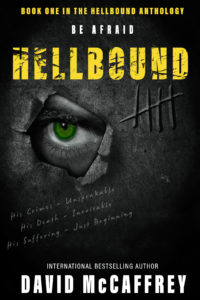 MINI REVIEW: 
How can an author actually make you empathise with a twisted, sociopathic serial killer because that is EXACTLY what David McCaffrey did! Ruthless and relentless, we delve deeper into the depths of Obadiah's hell as we learn what emotions can do and whether they played a part in shaping this man into the killer he became.
Read my full review HERE
About the Book: 
Between Heaven and Hell lies the soul of a killer.
Award-winning author, David McCaffrey, brings you a serial killer like no other.
Obadiah Stark aka The Tally Man, is executed at ADX Absolom, his death sentence watched by the world's media, victim relatives and one investigative reporter, Joe O Connell.
Penning an account of Stark's personal history and subsequent crimes in the hope of determining what makes the sociopathic mind tick, Joe discovers inconsistencies which cause him to investigate Stark's execution.
While this is happening in the real world, Stark awakens to an afterlife where he has a wife and daughter bound to his childhood hometown. Following his natural predatory instinct, Obadiah proceeds to torment the town, committing multiple murders before being gunned down by the police. He awakens to find that everything has reset, with no one recalling his murderous spree.
A reality where he is forced to submit to emotions he has never experienced before… and with them, a poisonous dose of morality.
Don't they all look and sound amazing? Well, they ARE amazing – this is one addictive series and each one had me wanting more. So grab this series – DO IT! You can thank me later!