Whoop! Whoop! Thrilled to be hosting Liz Mistry's UNSPOKEN TRUTHS blog tour today with a great #guestpost! My thanks to Emma Welton, Liz Mistry and Bloodhound Books for the invite. Let's find out a little more about the author and this book before we delve into the guest post!
About the Author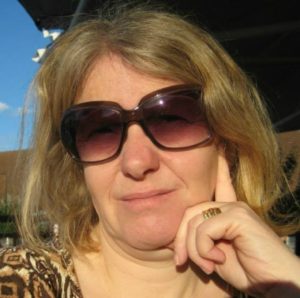 Liz writes crime fiction books set in Bradford, West Yorkshire. The DI Gus McGuire series is gritty Northern noir with a bit of Scottish thrown in.  She is currently researching for a Ph. D in creative writing at Leeds Trinity University. As part of her Ph.D she is researching how the teen killer's voice is portrayed in the adult crime fiction novel with specific reference to the influence of teen social media usage, with a view to writing a crime fiction novel around these issues.
Liz also teaches creative writing, specialising in crime fiction and is a regular panellist at literary festivals throughout the UK.  She enjoys reading her work at Open Mic and Noir at the Bar events. She was chosen to be one of the spotlighted authors at the Bloody Scotland crime writing festival in 2016.  She is the lead blogger for the well renowned crime fiction blog The Crime warp which reviews contemporary, mainly UK based, crime fiction, comments on current issues around the genre and creative writing in general and interviews authors on a regular basis.
She is available to comment on current issues around creative writing in general and crime fiction in particular and to speak at local and national festivals and conferences.
She is contactable on:
Facebook: @LizMistrybooks
Twitter: @LizCrimeWarp
About the Book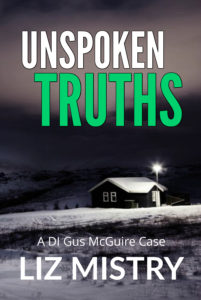 In Unspoken Truths, DI Gus McGuire and his team navigate a complex web of intrigue, espionage and murder. Set in Bradford, Manchester and on Saddleworth Moor, Gus is pushed to his physical and psychological limits.
First a rural train between Manchester and Bradford is deliberately derailed by a vehicle with a boot filled with drugs, then a woman's tortured body is discovered in Keighley. When Gus' brother-in-law goes missing, the investigation becomes personal. As he battles against the storms of the Beast from the East, Gus must uncover the links between the dead woman, a pharmaceutical company in Manchester and a research facility in Northern Cyprus, as well as the disappearance of his brother in law. With the body count increasing, Gus sets Compo loose on the Dark Web – how will Gus react when he discovers that things are not as they seem?
Meanwhile, DS Alice Cooper faces extreme danger in prison and, as the evidence piles up against her, Gus and his team's loyalties are pushed to the limit.
Can Gus stop the blueprint for a deadly bio weapon from falling into the wrong hands? Can he solve a series of murders and track down a psychotic killer? Never before has Gus faced such a demanding test.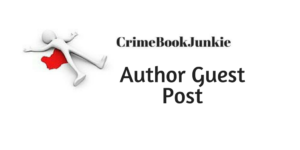 The Gentle Art of Murder
I do a lot of panel events, Noirs at the Bar, and creative writing workshops and often the first question on peoples' lips is 'Where do you get your ideas from?'
My response is usually something along the lines of, 'If I tell you I'll have to kill you' and usually in a terrible American gangster sort of accent – think Clint Eastwood crossed with Al Pacino and you're nowhere near on the ball.
The truth of the matter though, is that my ideas don't ever come from just one source and, for me anyway, that's the beauty of them. The knowledge that as I'm writing, ideas and disconnected thoughts will float into my head and connect on the page is both thrilling and a teensy bit scary.; What if one day the ideas stop coming? What if the drift in and evaporate on a puff of smoke before I've had a chance to get them down on the page? – oh the woes of being a

p

a

n

t

ster

as opposed to a plotter!
In

Unspoken Truths

things are bad for Gus and for Alice.

Unspoken Truths

has been described as my darkest novel yet and I think that's because I'm dealing with the slow decimation of a much-loved character (Alice) whilst she's in prison.  A police officer in prison

is never going to have an easy ride of it and a good police officer in prison will definitely not. From the start, I knew I was going to put Alice through the wringer – I just didn't realise how much through the wringer I would go with it. So – where did the Alice's storyline come from? In all honesty, I channelled a lot of my own personal despair into her. When I was in the depths of my depression, things were really bad and I wanted to channel that into Alice. Her slow mental deterioration, her depersonalisation, her drawing into herself have all been things I've personally gone through, but the main thing I wanted with Alice was to show her overwhelming strength. Her ability to rise above everything with strength and dignity. In putting Alice through the wringer, I also gave her the opportunity to show a side of her we'd never seen before.
In terms of the entire chemical weapon/terrorism angle, I suppose I was

subconsciously 

influenced by the recent

Novic

h

ok

scare in

Salisbury. These sorts of headlines are always ripe pickings for me to apply those big 'WHAT IF …?' questions that can lead to many weird and wonderful thought processes and that combined by a recent holiday in North Cyprus was probably the basis of my thought processes. In choosing to make the first victim close to Gus, I was able to increase the pressure on him to solve it – Of course more and more pressure was subsequently exerted by his ex – wife Gabriella – Do we like Gabriella? – Well, I'm definitely getting mixed feedback about her (author rubs hands in glee – it's always good to have a 'hate' character).
The idea of the weather as a character (

Unspoken Truths

is set during The Beast form the East) came towards the end. What better way to make it harder for Gus than to have him fighting not only the villains, his guilt over Alice and his own mental health issues, but to have him also battling the elements too. I really enjoyed doing that. The research into different Beast from the East scenarios was brilliant as it allowed me to consider rough sleepers during extreme weather, ordinary peoples responses to it, the marijuana farm that was discovered due to the storm and of course Piers Morgan being daft about Northerners.
Hope you enjoy reading Unspoken

T

ruths as much as I enjoyed writing it

.
Love from
Liz Mistry
Fantabulous! Thanks so much for this awesome post, Liz! Hope you all enjoyed it too! Follow the blog tour for more posts and reviews and grab yourself a copy of Unspoken Truths today!