Woohoo! I am absolutely over-the-moon to be a part of Lilja Sigurdardóttir's TRAP blog tour. A huge thanks to Anne Cater and Orenda Books for the invite and the ARC. First a bit about the author and this most amazing book- a great translation by Quentin Bates – let's find out more!
About the Author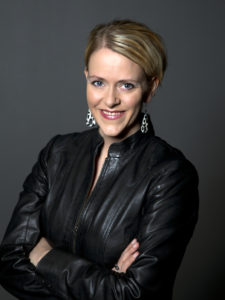 Icelandic crime-writer Lilja Sigurdardóttir was born in the town of Akranes in 1972 and raised in Mexico, Sweden, Spain and Iceland. An award-winning playwright, Lilja has written four crime novels, with Snare, the first in a new series, hitting bestseller lists worldwide. The film rights have been bought by Palomar Pictures in California. She lives in Reykjavík with her partner.
About the Book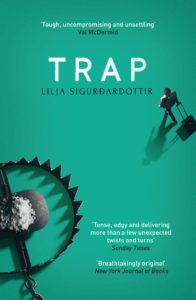 Happily settled in Florida, Sonja believes she's finally escaped the trap set by unscrupulous drug lords. But when her son Tomas is taken, she's back to square one … and Iceland.
Her lover, Agla, is awaiting sentencing for financial misconduct after the banking crash, and Sonja refuses to see her. And that's not all … Agla owes money to some extremely powerful men, and they'll stop at nothing to get it back.
With her former nemesis, customs officer Bragi, on her side, Sonja puts her own plan into motion, to bring down the drug barons and her scheming ex-husband, and get Tomas back safely. But things aren't as straightforward as they seem, and Sonja finds herself caught in the centre of a trap that will put all of their lives at risk…
Set in a Reykjavík still covered in the dust of the Eyjafjallajökull volcanic eruption, and with a dark, fast-paced and chilling plot and intriguing characters, Trap is an outstandingly original and sexy Nordic crime thriller, from one of the most exciting new names in crime fiction.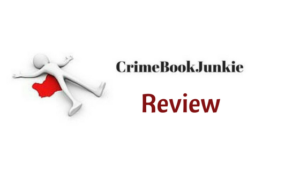 Set in Iceland, though we start off in Florida, the reader is in for a treat with this beauty. There is escape, drugs, freedom (physically/mentally), desperation, sadness, fear, relationships, control, manipulation, vulnerability, power and a drive to do whatever is necessary to protect your loved ones. What a heart-stopping, emotional read!
I absolutely LOVED the opening chapter, atmospheric and full of suspense – I definitely wanted to find out what happens next. This book was just Go! Go! Go! Being an ex-Probation Officer, this story really spoke to me on all levels – it was very real, very raw and emotive in every which way. Perfectly paced, as I reader I just absorbed one glorious page after the other. A dark, tense and heart-racing read – the OMG moments floored me! Have I mentioned how much I LOVED this book?!
I particularly loved the narrative and characterisation within this novel. Sonja is superbly written- trying to escape from her brutal ex-partner, she finds herself drawn back to the life she was desperate to leave. She is fantastically flawed – you find yourself almost as obsessed with her as Agla is! Perfection!
Ah…Agla – she may be smart in the business sense, but when it comes to matters of the heart, she is easily manipulated by Sonja. I felt for her but also wanted to shake her a million times. She is no push-over, but her "need" for Sonja sometimes overwhelms her and you could see the trouble this could cause.  I was never completely convinced that the love was 100% reciprocated…and I liked that!
Adam – plain and simple – he is a bastard! 'Nuff said. Everything is about him and he doesn't care who gets crushed in the process.
Mr Jose…and his wife …OH MY GAWD…. I don't even want to go into detail about either of them…I might spoil something…but WTAF!? *shudders* – evil…pure evil….
And although there were other characters I could mention, I can't leave out Bragi – such a fantastic throwaway character. His presence is few and far between but the impact is crucial and although he goes against everything he believes, your heart goes out to him when you find out his reasons. What a wonderfully written character!
Would I recommend this read? Like crack to an addict, this book was addictive and it is an absolute HELL YEAH from me. Suspense, twists and WTAF moments had me glued to the book and I am going in search of my copy of Snare now as I must read this…MUST! I highly recommend this read – and if you don't believe what I have said…see what other on the tour thought here: