I'm over the moon to be taking part in June Taylor's Keep Your Friends Close blog tour today sharing a fantastic guest post! Huge thanks to the author, Emma Welton and Killer Reads for inviting me to take part! I'd like to share a little about the book and the author before we get to the guest post from June!
About the Author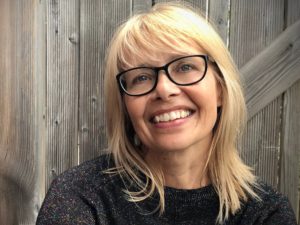 June Taylor is a UK psychological thriller writer.  For many years she was a TV promos writer/producer before turning to writing plays and fiction.  She was runner-up in the 2011
Times
/Chicken House Children's Fiction competition with her YA novel.  Her debut Adult psychological thriller
Lo
s
i
n
g Juliet
was nominated for the Not the Booker Prize 2017.
Keep Your Friends Close
is June's second psychological thriller for the HarperCollins Killer Reads imprint.  The
ebook
comes out on 26
th
October 2018 (paperback 10
th
January 2019).
June is active in her local writing scene, including serving on the Board of Script Yorkshire and taking part in Leeds Big bookend.
When she's not writing she likes to shrink her life down into a campervan and take off on some adventure with her husband.  She lives in Yorkshire.  You can also find June at her
website
. On
Twi
t
ter
and
Facebook
and occasionally on
Instagram
too.
About the Book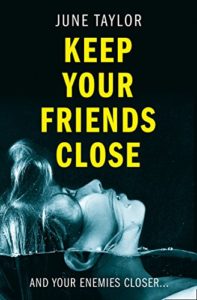 Keep your friends close and your enemies closer…
An addictive and shocking psychological thriller, full of twists you won't see coming, perfect for fans of FRIEND REQUEST by Laura Marshall.
A friend who won't let you escape.


When Karin is taken on a romantic break by her loving partner Aaron, she can't wait for him to propose. But her surprise weekend quickly becomes a nightmare from which she may never escape.
Who wants everything you have.


They are staying by the beach at the Midland – a grand hotel where Karin used to work. And where Karin's dangerous and obsessive ex, whom she has been trying to leave behind for years, is waiting patiently for her to return.
Who won't stop until your life is in ruins.


Now all of Karin's darkest secrets are being dragged into the light and her friends are turning against her. When one of them is murdered, Karin begins to realise just how treacherous relationships can be…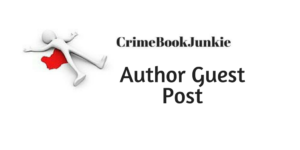 Books are m

ovies of

the mind
How the principles of scriptwriting

can

help

write a novel
by June Taylor
Paul Coelho said
:
"
The
book is a film that takes place in the mind of the reader"
.  
I
think this is so true.  I
come from a scriptwriting background
so
when I write novels,
and
in particular psychological thrillers, I find that skills
learned
from the scriptwriting discipline
transfer across
very
naturally
.
T
his
approach isn't for everyone, but these are my Notes to Self when I'm writing.
I have them
pinned above my desk along with my Ten Point Plan:
JUNE'S NOTES TO SELF:

SCENES:
 Think of chapters as scenes or a cluster of scenes. Does each one move the plot forwards, or reveal something about the characters? If not, get rid.
Add tension and complications. Keep it interesting.
SCENE SETTING:
 Paint the picture but remember
less is more
. Golden Rule: "Come in late
and
get out early" … ie. cut straight to the important bit.  A few sentences
 (usually three enough)
to set the scene
.
CAMERA ANGLES:
 Move the camera around.
But ask, W
hose viewpoint is it? 
Start w
ith an establishing shot then focus on the detail.
End on a close up or reaction shot
.
O
r pull out slowly – maybe with a late reveal of something crucial to the plot.
Or something more dramatic, like an explosion.
 (
Don't
end every chapter with a question
.
)
DIALOGUE:
 Each cha
racter
should have
a distinctive voice and different way of expressing themselves.
M
ake it difficult for characters to communicate
.
Like put
them in a noisy restaurant where they're being constantly interrupted.
Remember
people rarely say what they mean
.
 They
talk
in riddles.  
[
This is
SUBTEXT].
SUBTEXT:
 People hide their
true
feelings and
often
have a hidden agenda. So the
'
unsaid
'
is just as important as what is actually
being
said.
 Know your characters
' wishes and
goals but don't write 'on the nose'.  Be subtle.
SUBPLOTS:
Make sure these all feed into the central plot in some way.  If not, get rid.
STAGE DIRECTIONS:
Move the actors/characters about and use the full screen but only use stage directions which add to the drama or enhance the dialogue.
Static scenes are not so interesting unless that's what you're aiming for.
Character traits are interesting
too.  Is there
something a character always does
?
CONFLICT:
Don't make it easy for your characters to get what they want.
Remember –
No conflict, no story.
PACING:
P
ut some space between the more dramatic scenes.
 Quieter
scenes
give time to reflect,
both for
the
characters and
the
reader
.  However,
the
se scenes
should
still add to the drama and
move
the story on.
JUNE'S TEN POINT PLAN:
1. Think visually.
2. Use all five senses. The sixth one is important too.
3. Step right into the action.
4. Create tension.
5. Hooks at the end of scenes.
6. Show don't tell.
7. Less is more.
8. Intrigue is good.
9. Let the audience do some work too.
10. You can't please everyone, but try not to bore anyone!
Thanks so much for this post, June. As I'm right in the middle of editing/writing this post hits home and is a very useful piece for anyone who is writing at any stage! Love it! 
Keep up with the rest of the blog tour here and check out Keep Your Friends Close …I have it on my TBR and can't wait to read it!