Woohoo! it is my stop on Helen Fields' PERFECT SILENCE blog tour and I'm over the moon to share with you all this fantastic #authorguestpost on creating characters – anyone who follows my blog, knows that I am obsessed with characters so I really LOVED this post! Huge thanks to Sabah Khan and Avon Books for asking me to take part, the author for taking the time to write this guest post and Avon again for sending me an ARC which is on my immediate TBR to read! Can't wait!  First though, a little about the author and this book!
About the Author
Helen can be found on Twitter @Helen_Fields for up to date news and information. A former barrister, Helen now writes a Scottish set crime series – D.I.Callanach and D.I. Ava Turner. Her debut novel Perfect Remains and the second in the series Perfect Prey are Amazon best sellers. Her next book 'Perfect Death' is due out on 25 January 2018. She currently commutes between Hampshire, Scotland and California, and lives with her husband and three children.
About the Book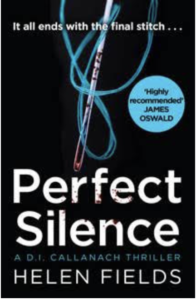 When silence falls, who will hear their cries?
The body of a young girl is found dumped on the roadside on the outskirts of Edinburgh. When pathologists examine the remains, they make a gruesome discovery: the silhouette of a doll carved in the victim's skin.
DCI Ava Turner and DI Luc Callanach are struggling to find leads in the case, until a doll made of skin is found nestled beside an abandoned baby.
After another young woman is found butchered, Luc and Ava realise the babydoll killer is playing a horrifying game. And it's only a matter of time before he strikes again. Can they stop another victim from being silenced forever – or is it already too late?

Creating Characters and Falling In Love
For me, easily the most joyful part of writing the Callanach series has been creating characters I can revisit and develop with each book. What always amazes me, is the way readers talk about the wider cast of characters, and how important they are to sustaining not plot perhaps, but the sense of real community that the lead character exist within.

         When I introduced journalist and news blogger Lance Proudfoot in Perfect Prey, he was an immediate hit. That wasn't surprising to me. He is, in part, based on a dearly beloved friend I lost some years ago – not his job, or his obsession with motorcycles, but Lance's ease and openness, his ability to tell the truth gently. I wasn't expecting him to return in the next book, but return he did, in another crucial role. It occurred to me as I was writing that Lance was a remedy to the extreme darkness I was writing about. It's important that books have balance, and when you're writing crime, you can't often lighten the plot, so it's the characters who have to shine the light in the darkness. It's the kindness they show one another, their humour, and their softness which brings a vital element to what otherwise might be (if I'm honest) pretty depressing stuff.

         DC Christie Salter does the same. She's a great police officer, understated, who plays a relatively small part, but small characters should never automatically be insignificant. Salter is the sort of police officer you can rely on, who never groans about being given the mundane part of the investigating, and as such it's that much more interesting when they get caught in the middle of the action. That's the thing with your peripheral cast of characters. They often take you by surprise.

         The one that's really caught my attention at the moment is Detective Sergeant Lively. For me, he has evolved more than anyone else as the books have progressed, probably more so at the climax of Perfect Death than at any other time, but I was delighted to have him in such an important scene. There has to be conflict between characters, it's inevitable, but Lively manages to bridge the divide between conflict and support at exactly the right moment. That wasn't how I intended him to be at the start, but as I write, I find the characters increasingly want to do their own thing.

         I often hear other writers say how people they meet come out with the same old, "Oh no, you're going to put me in one of your books!" Most of the time that's ridiculous, although I would have to confess to putting not whole characters into my writing, but adopting and adapting the aspects of people's personalities to fit into my characters. I can almost always match a character I love to someone in my life who has influenced me, likewise my antagonists are drawn from real people I've crossed paths with, sometimes as a lawyer, sometimes in my personal life. As a writer I believe you're responsible for plot creation, but characters come from a deeper place that we're not really fully conscious of. This is what makes it so hard to "kill your darlings" but it's a necessary evil, for which I should probably apologise in advance!

Helen Fields, July 2018
Thanks so much to Helen and everyone at Avon Books UK. I loved this post! Make sure to follow the rest of the tour here: