Hugest of thanks to Michael Stanley, Anne Cater and Orenda Books for inviting me on the DEAD OF NIGHT blog tour and this awesome #guestpost! First though, more about Michael Stanley and this book!
About the Authors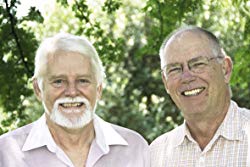 Michael Stanley is the writing team of Michael Sears and Stanley Trollip. Both natives of Africa, we have travelled regularly together to Botswana and Zimbabwe over the past twenty years to experience the country with its wide diversity and interesting peoples. Our books reflect the authentic Africa of the 21st century: not merely the politically unstable, desperately poor Africa of the nightly news, but also the emotional conflicts of people with one foot in traditional culture and the other in Western-instigated globalism. The new Africa is not the safari jungle, but a collection of diverse groups and nations struggling to find their way in a rapidly changing context.
It was at the lion research centre in the Savuti, an ancient dried-up lake in Botswana's Chobe National Park, that we realized how to conceal a perfect murder. We watched hyenas team up to drive lions off their fresh kills, then devour everything in sight, bones and all. By the next morning, no evidence remained of the carcass. Botswana offered the ideal setting for such a literary revelation. This was the kernel of the idea that led to our first book, A CARRION DEATH.
Our detective is Assistant Superintendent David Bengu of the Botswana criminal Investigation Department. His nickname is Kubu because of his size – "kubu" being the Setswana word for hippopotamus. Hippos in the wild spend most of the day in pools or rivers, with all but their eyes and ears under water; they look deceptively docile, belying the fact that they kill more people in Africa than any other mammal, trampling whatever lies between them and their objective. So with Kubu. On the surface he appears harmless; a convivial man with a sly sense of humour who loves his wife, and is passionate about wine and music. But Kubu is a capable, wily policeman determined to rid Botswana of crime, no matter what gets in his way.
We enjoy both a local and trans global collaboration, mainly via e-mail and Skype. Michael lives in Johannesburg, South Africa; Stanley spends half the year in coastal South Africa and half in Minnesota.
About the Book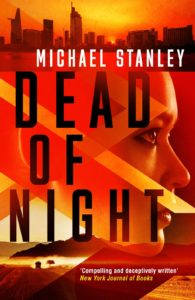 When freelance journalist, Crystal Nguyen, heads to South Africa, she thinks she'll be researching an article on rhino-horn smuggling for National Geographic, but within a week she's been hunting poachers, hunted by their bosses, and then arrested in connection with a murder. And everyone is after a briefcase full of money that she doesn't want, but can't get rid of…
Fleeing South Africa, she goes undercover in Vietnam, trying to discover the truth before she's exposed by the local mafia. Discovering the plot behind the money is only half the battle. Now she must convince the South African authorities to take action before it's too late, both for the rhinos and for her. She has a powerful story to tell, if she survives long enough to tell it…
Fast-paced, relevant and chilling, Dead of Night is a stunning new thriller from Michael Stanley, author of the award-winning Detective Kubu series, introducing an intriguing new protagonist, while exposing one of the most vicious conflicts on the African continent…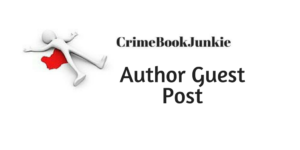 Return to Vietnam
Crystal Nguyen, the protagonist in our thriller Dead of Night, was born in Vietnam, but emigrated to Minnesota as a child when she and her mother were allowed to leave the country. Her father, who fought on the American side, was allowed to join them some years later. It might seem a strange choice of background for the main character of a thriller set largely in South Africa, but Vietnam turns out to be pivotal to the story.
Crys grows up as an American, and becomes alienated from her father when she refuses to obey the rigid rules of behaviour expected of a Vietnamese daughter. He throws her out of their home when he sees her holding hands with an American boy. This rejection focusses her on her love of the outdoors and particularly of wolves. She makes a career as an environmental reporter, getting her big break when she persuades National Geographic to let her complete an article on rhino poaching and the smuggling of rhino horn, after their own reporter, Michael Davidson, mysteriously disappears on the assignment in South Africa. But, in fact, she is more interested in finding Michael than in the article – they are very close.
After a gruelling time in South Africa, the trail eventually leads her to Vietnam, which is one of the largest consumers of rhino horn and the heart of the smuggling from Africa into Asia. Any illegal trade attracts competing cartels to benefit from the lucrative profits, and these are very lucrative indeed – rhino horn on the street in Vietnam is worth more than its weight in gold. And the cartels are willing to protect their share of the market by whatever means necessary.
When Crys arrives in Ho Chi Minh City, she is conflicted in many ways. On the surface, she is researching her article, digging into the ways in which the rhino horn smugglers operate and who their customers are. That in itself is a dangerous activity, as she is repeatedly warned, but she needs to dig much deeper. Michael disappeared after telling her he was close to 'something big', and she has come to suspect that the 'something big' may involve a plot to acquire a huge amount of rhino horn. In fact, she believes that Michael has been abducted and probably killed precisely because he got too close to the truth. And although she has contacts in Ho Chi Minh City, she can trust no one.
At another level, she is unsure how she feels about being back in the country. Is she a refugee coming home, or is she an American journalist visiting a new city and different culture? In her professional role, she sticks strictly to the latter, even pretending that she can't speak the language so as not to blow her cover and in the hope of picking up scraps of information not meant for her. On the other hand, she is quite at home with the ordinary people there, feeling more comfortable fading into the crowd than standing out as different as she often does in Minnesota.
She has great difficulty in reconciling her comfort in being in Vietnam with the knowledge that the country is responsible for the horrible slaughter of rhinos in the mistaken belief that rhino horn has medicinal properties.
Crys learns that the belief in rhino horn as a cure for everything from fevers to cancer exists largely among older people, but younger consumers use it to show off their wealth, often mixing rhino horn powder with real drugs such as cocaine or Viagra to produce the effect they want. This young market is actively pushed by the cartels that benefit from the rocketing demand and diminishing supply.
In Africa, Crys witnessed the on-the-ground conflict between poachers and game rangers, but it is in Vietnam, in Ho Chi Min City and Hanoi, that the cartel generals live, and they are even more dangerous than the poachers – as Crys soon finds out.
We really liked exploring Crys's turmoil of internal conflicts as she tries to get to the heart of what's going on. And we enjoyed writing the actions scenes where Crys is desperately trying to stay alive..
I don't know about you, but I loved that fascinating insight into Crystal Nguyen background/character! Really looking forward to reading this series. Make sure you see what everyone else thinks by following the blog tour here: