I'm a massive fan of Michael J Malone and the #McBain series so I was thrilled not only to be asked to be a part of this blog tour, but also to finally get a review on my blog. You see, I read this originally in 2014, before I started blogging – so I'm doubly excited today to share this review. Thanks to the fabulous Gordon McGhie of GRAB THIS BOOK for asking me to take part. Here's a little about Michael J Malone and this book – then I will tell you what I thought!
About the Author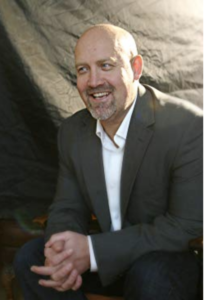 Michael Malone was born and brought up in the heart of Burns' country, just a stone's throw from the great man's cottage in Ayr. Well, a stone thrown by a catapult, maybe.
He has published over 200 poems in literary magazines throughout the UK, including New Writing Scotland, Poetry Scotland and Markings. His career as a poet has also included a (very) brief stint as the Poet-In-Residence for an adult gift shop. Don't ask.
BLOOD TEARS, his debut novel won the Pitlochry Prize (judge:Alex Gray) from the Scottish Association of Writers and when it was published he added a "J" to his name to differentiate it from the work of his talented U.S. namesake.
He is a regular reviewer for the hugely popular crime fiction website www.crimesquad.com and his blog, May Contain Nuts can be found at http://mickmal1.blogspot.com/
About the Book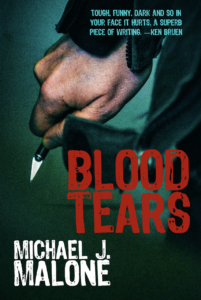 A body is discovered: the terrible mutilations spell out the wounds of the Stigmata. For Glasgow DI Ray McBain, the killings are strangely familiar… and then the dreams begin. The first in a series of books featuring DI Ray McBain, a Glasgow detective who has too many friends in the underworld for his own good, but enough to support him when he goes on the run, the main suspect in a murder case. Scottish noir at its best.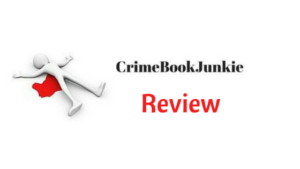 Set in Glasgow, the reader is pulled into a world where the line between criminals and the law is blurred, a haunting past drags up memories best forgotten, and where a search for the truth / justice opens a pandora's box that may be better left closed… shame, guilt, fear, abuse, anger, secrets, retribution and sadness are just a few of the themes that move both the reader and the story in a twisted and dark tale that could easily lead to self destruction.
I had to search through my notes to find my original thoughts on this book and after reading through them it all came flooding back like a tsunami! I absolutely LOVE the McBain series and remember how easily I was drawn in to the darkness of McBain. The majority of the story is told from the POV of McBain, although we do get tidbits from the killer's POV. Are they one in the same? I was absolutely engrossed by the plot of this story – and raced through the pages as our protagonist is desperate to clear his name. Will he do it? Read the book to find out!
Eeeeeeek! Character-wise – well I friggin loved McBain! He has a disturbing backstory, a wicked sense of humour, committed and determined to succeed, but also your typical flawed detective – not so much so that I did any eye-rolling…it worked for him and made me more invested in his character.  I also adored the rest of the team – their relationship with McBain was superbly written and absolutely believable. I love the writing style, narrative and development of characters as the story moves forward. You get so immersed and invested in these fictional characters lives – you feel like you are a part of the story! SUPERB!
Holy heart-stopping butterflies, Batman! Kenny O'Neill – Kenny- hellooo-how-are-you-doing?– O'Neill *Swoon* I know I really shouldn't be drawn to the opposite side of the law, but it is really hard not to like Kenny, though he seems to have no problem finding himself a bed-mate when "needed". Although he and McBain are complete opposites, he is loyal, fierce and willing to help out a friend from the past. The banter between this pair is exceptional and for me, I was torn as to which character I liked more!
This was the first book I read by this author and I immediately was an instant fan! Would I recommend this novel? Holy bejeesus, you bet you arse I would! Dark, edgy, twisted, and full of OMFG-No! moments, the reader is taken on a descent into the unwanted, unknown and left questioning everything! Get hooked on McBain & O'Neill, peeps – you will thank me later!