Happy *paperback* Publication Day, Steve!
*warning – if you're easily offended….stop here…as I swear and may say some inappropriate things when I'm excited and this book…well, it excited me..a lot!*

HOLY FRIGGIN SH*TBALLS ? I'm super excited to be hosting the final stop on Steve Cavanagh's THIRTEEN blog tour! Huge thanks to Orion, Lauren Woosey and Tracy Fenton for the honour of taking part! First a bit about this book and author before I share the #booklove and gush over this book!
ABOUT THE BOOK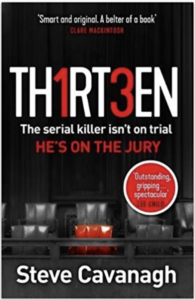 'To your knowledge, is there anything that would preclude you from serving on this jury?'
Murder wasn't the hard part. It was just the start of the game.
Joshua Kane has been preparing for this moment his whole life. He's done it before. But this is the big one.
This is the murder trial of the century. And Kane has killed to get the best seat in the house.
But there's someone on his tail. Someone who suspects that the killer isn't the man on trial.
Kane knows time is running out – he just needs to get to the conviction without being discovered.
Published by Orion, you can grab your copy today!
And I just have to throw in the US cover for this book too because OMFG …it's fantastic!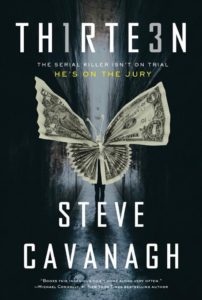 ABOUT THE AUTHOR
Steve Cavanagh was born and raised in Belfast and is a practicing lawyer and holds a certificate in Advanced Advocacy. He is married with two young children. The Defence was chosen as one of Amazon's great debuts for 2015, as part of their Amazon Rising Stars programme. In 2015 Steve received the ACES award for Literature from the Northern Ireland Arts Council. The Defence was longlisted for the Crime Writer's Association Ian Fleming Steel Dagger, and shortlisted for two Dead Good Readers Awards.
Steve writes fast-paced legal thrillers set in New York City featuring series character Eddie Flynn.
Steve also hosts the weekly Two Crime Writers and a Microphone podcast along with Luca Veste.
Find out more at http://www.stevecavanagh.com or follow Steve on Twitter @SSCav
MY REVIEW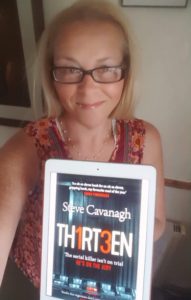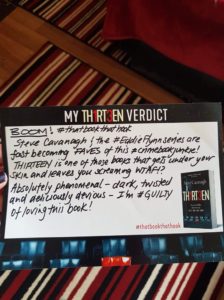 We're back in the big apple, NY – in an elusive cat & mouse game that will have all the OMFG's spewing out of your mouth at every page-turned! There is manipulation at its finest, consequences, accountability, corruption, guilt, anger, jealousy, control, power, retribution as our hero searches for the all important truth.
What a prologue! I was a walking (ok, sitting) ball of anxiety as the story unfolded. My nerves were on edge as the suspense was building, I was scratching my head trying to figure out what in the world was going on! I absolutely loved the clever and simply inspired concept of this storyline. Mr Cavanagh has a knack for making every absolutely crazy idea seem scarily believeable…I mean What If.. can you imagine..what if the serial killer was on the jury!

Can-you-bloody-imagine?!

The author turns all those what if's into WTAF's in a whirlwind of criminal justice thrills that will have me shouting about this book for a VERY long time. A superb narrative and cast of characters that pulls you right in and does not let go until you reach that amazing ending!  So effing clever! ????
I fear this review may end up being a little long as I just have SO much I want to say, but I know I will never be able to do this book justice – so I'll try to be as brief as I can…she says as she rambles on…
I friggin LOVE Eddie Flynn! Yes..a fictional character and I want to MEET this guy! (I swear, for the most part I'm not crazy) It's just that Steve Cavanagh brings Eddie to life in each of his novels, you just believe in Eddie Flynn! He has a great sense of humour, rises to every challenge thrown at him, his guilt is his moral compass and he is always torn between righting wrongs and his own personal happiness. What is NOT to love! I also felt he was a little more vulnerable in this novel and it endeared me to him even more. Everyone needs Eddie Flynn in their life!
I desperately want to speak about "the" jury member- Joshua Kane-  but it is so cleverly written that I don't want to spoil one little bit..but holy sh*tballs, I loved this character – so cunning, calculated and simply one of THE BEST characters I have come across in awhile! I mean the balls on this guy – a serial killer on the jury… hats off to Mr Cavanagh because this is just epic!
We also come across some characters from previous Flynn novels and a few new ones, all of which added to this story and contributed massively to the shrieks of joy as something new was revealed.
I do want to mention Bobby though – Eddie is defending him and his guilt is hard to argue against as the evidence is brought to light. He was a character who I was never sure whether I liked or disliked – and I loved that – I followed the trail of evidence trying to deduce whether Eddie was wasting his time or should be working even harder to get this guy off! Was he a killer after all? ?
While I was reading this book, I was often giddy with excitement – clapping my hands with glee as some of my guesses turned out to be correct. I felt like I was right there with Flynn, DAMN…such an emotive book! All the friggin #BOOMS! ??
So would I recommend this book? You bet your sweet arse I would! Steve Cavanagh has once again NAILED it with the latest instalment in the Eddie Flynn series! Clever, creative and oh-so-frickin' compelling, this book ticks ALL the boxes and then some! If this book is not on your TBR, it should be! And I will tell you something else… this series needs to be on the big screen…the world needs #EddieFlynn on screen!
If you're still unsure, check out what everyone else has been saying, especially my #Twinnie over on Chapter In My Life as we close this #badboy blog tour down!