Oh my giddy aunt! I was super excited when I opened an email with THIS waiting for me….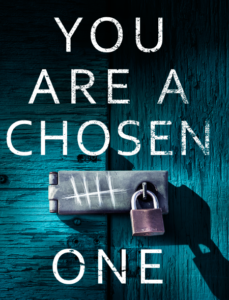 After a bit of childish, giddy squealing I immediately agreed to be on the blog tour – I mean, it's Howard Linskey ? the answer was always going to be: Yes! Yes! Yes! – Then THIS arrived in the post…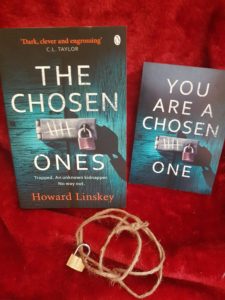 I nearly wet myself with glee! So a massive *Thank You* to Howard Linskey, Penguin Random House UK and Michael Joseph for the absolutely awesome honour of sharing my review as I host The Chosen Ones blog tour today! Let's find out a bit more about Mr Linskey and this book before I tell you my thoughts on the latest instalment in the north-east crime fiction series!
About the Author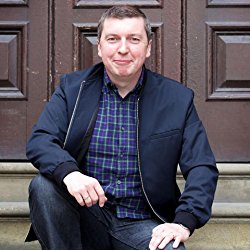 'The Chosen Ones' is the fourth book in a north-east, crime fiction series written by Howard Linskey for Penguin Random House, featuring journalists Tom Carney & Helen Norton with police detective Ian Bradshaw. The other titles in this series are 'The Search' 'No Name Lane' and 'Behind Dead Eyes'. He is also the author of 'Hunting the Hangman' a historical thriller about the assassination of Nazi General Reinhard Heydrich in Prague during WW2.
His David Blake trilogy 'The Drop', 'The Damage' & 'The Dead' have been optioned for TV by Harry Potter producer, David Barron. They are published in the UK by No Exit Press, in Germany by Droemer Knaur and in the US by Harper Collins. The Times newspaper voted 'The Drop' one of its Top Five Thrillers of the Year and 'The Damage' one of its Top Summer Reads. Both books broke into the top five Amazon Kindle chart.
Originally from Ferryhill in County Durham, he now lives in Herts with his wife Alison and daughter Erin
About The Book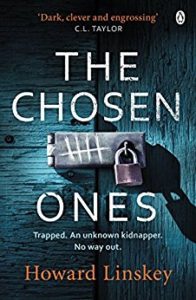 Eva Dunbar wakes in a large metal box.
She has no idea who has taken her.
She has no way out.
She isn't the first young woman to disappear.
And with no leads Detective Ian Bradshaw has precious little time.
When at last a body is found, the police hope the tragic discovery might at least provide a clue that will help them finally find the kidnapper.
But then they identify the body – and realise the case is more twisted than they ever imagined . . .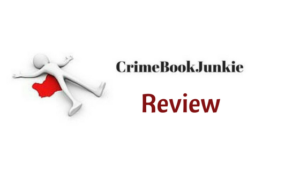 Set in the North-East, I was immediately consumed by a fictional world filled with corruption, abduction, terror and fear. There was black mail, police politics, a desire to please, consequences, uncertainty, religion, morality, skewed beliefs and the search of justice. Well it was a journey and a half and I was oh-so-glued to my kindle!
Mr Linskey pulls the reader in with the opening chapters and a mega #killerhook – Holy Cheesus! ? You'd think one harrowing storyline would be enough to send those tingles down your spine…but oh no…the author sews a few threads in that really keeps the reader on their toes and biting those nails to the quick! When everything comes together, you are left thinking what the actual hell just happened and I absolutely LOVE that! A brilliant narrative and various POV's had me racing through the pages! BOOM! ??
I adore this series and I particularly enjoy watching a character arc develop with each book in a series. I absolutely LOVE the dynamics between Bradshaw, Tom and Helen and how two journalists work WITH the police to solve a case. The banter, friendship, loyalty and mutual respect is refreshing, relatable and absolutely fascinating as we learn more and more about the awesome trio! Totally invested in these peeps!
I do love me a sinister, creepy antagonist and Mr Linskey NAILED it in The Chosen Ones – even the title is eery! I won't give too much away, well anything away…because I am a *no spoiler* kinda gal, but I will say…*shudders* … I was utterly shocked… ??
Would I recommend this book? Oh hell yeah, I would! If you like your crime thrillers full of tension, chilling and one that leaves you with your mouth gaping open as you try and absorb the mind blowing scenes that you've spent the last few hours reading…then THIS is your book! I can't wait to see what the author comes up with next!
Don't forget to check out what everyone else is saying and grab your copy of The Chosen Ones today: